The firefighter everyone forgot about on 9/11
Official statistics show that 343 firefighters lost their lives on that day, but there were really 344
---
By Xavier Jackson
On September 11th, 2001, 19 terrorists caused the deaths of 2,977 people.
Of those, many of them were firefighters who spent their last moments attempting to save the lives of everyone still trapped in the burning Twin Towers. According to official statistics and the New York Fire Department, 343 of them died on that day.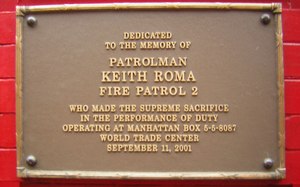 What those statistics don't show is that there was a 344th.
While the New York Fire Department served as the main fire protection unit for New York City, many people don't know about a second one: the New York Fire Patrol.
With only three stations and around 100 firefighters, the NYFP was a much smaller scale operation with a more focused purpose: The NYFP protected property. Where the FDNY would break windows to vent fires and spray areas with water, the NYFP would cover valuable items with tarps and pump excess water out of the buildings.
The FDNY and NYFP worked together to save people's lives and livelihoods from fires, and aside from their signature red helmets, there was little visual difference between the two organizations. So just like every other station in New York on September 11th, the NYFP responded.
Among them was six-year fire patrolman Keith Roma, who, by all accounts, absolutely loved his job.
While en route, he called his father Arnold Roma. After explaining the situation, the elder Roma (himself a former patrolman) decided to grab his fire gear and head over to the towers to assist. Keith's last words to his father were, "I'll meet you there." Sadly, in the chaos, he never got the chance.
Upon arriving, Roma and his colleagues immediately went to work helping to evacuate the buildings. A photographer even caught a photo of Roma leading a group of evacuees down a flight of stairs with another fire patrolman.
By his own colleague's count, Roma personally saved the lives of over 200 people, making no less than four trips up Tower 1 in the process. At one point, he helped a barefoot woman by carrying her over the broken glass strewn lobby of the towers, ensuring she would survive the day. He was last seen alive at the FDNY command post of Tower 1. His body wouldn't be found until Christmas Eve, surrounded by nine more evacuees he was attempting to escort to safety in his last moments. He was the only member of the New York Fire Patrol that day to die.
Yet to this day, Roma is not counted among the 343 who died.
To some, this is simply because he was not a member of the New York Fire Department, but to others the issue is not that clear cut. For instance, when his body was found, a code 4-5 "declaration of death" went out to the entire FDNY and Roma was given a full FDNY funeral mass. Yet the FDNY still does not count him among their number.
This has led to incidents such as what happened in a memorial stair climb set for later this year to honor all firefighters and police officers who died. The event organizers included just 343 firefighters. Only after haggling did they finally include a 344th spot for Roma.
Despite all his family's insistence, the official list today still only has 343 names on it. Even Wikipedia only lists 343. And before you say that anyone can edit it, I already tried and it was deleted.
Well, I'd like to see them say that to Roma's family's face or the other 31 Fire Patrolmen who have died in the line of duty. Keith Roma died a hero doing the job he loved, and the city of New York continues to ignore his legacy.
In the words of Roma's father, "Every time we hear that number 343, it hurts. It should be 344."
This article, originally published September 1, 2015, has been updated.