Warehouse explosion that killed 13 firefighters remembered 125 years later
The "Night of Horror" in Butte, Montana, killed 13 firefighters and at least 45 others in 1895
---
Tracy Thornton
The Montana Standard, Butte
BUTTE, Mont. — Even in its earliest days, before the dawn of the 20th century, Butte had experienced tragedy.
Six men died in a fire in the Anaconda Mine on Nov. 23, 1889. Fire swept through the Silver Bow Mine on April 21, 1893, leaving nine dead.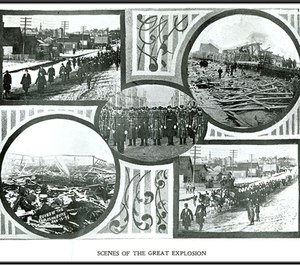 But "Butte's Night of Horror," which occurred 125 years ago, was on an entirely different scale.
Shortly before 10 p.m. on Jan. 15, 1895, fire broke out in the Mining City's warehouse district, located just east of Arizona Street.
Butte's firefighters were fighting the blaze, not realizing they were sitting on a powder keg — literally. An illegal amount of dynamite was being housed in these warehouses owned by the Kenyon-Connell Commercial Co., and the Butte Hardware Co.
The first explosion killed all 13 firefighters at the scene, but it was the subsequent blasts that killed 41 volunteers and spectators and severely injured others. In the days and weeks to follow, the death toll would rise to 58. Three of the department's four horses were also killed.
The young city with a population of about 27,000 was in deep mourning.
The anniversary has been noted through the years, sometimes with just a line or two, other times with a lengthy news article. Books have been published as well.
But not much has been written about the victims. They seem to have been lost among the newspaper pages of 1895.
It's nearly impossible to put a face to a name — photos of the victims are pretty much nonexistent. But through websites such as familysearch.org, Find a Grave, and newspapers.com, a better glimpse into their lives unfolds.
At the time of his death, Fire Chief Angus Cameron and his wife were mourning the loss of their 12-year-old daughter, Katie, who was buried on Jan. 2, 1895. The young girl slipped and fell on the ice near her home and died.
The remains of Adolph Wendorf, 32, were kept at the mortuary. Officials hoped a friend or family member would step forward, but no one came. Wendorf was buried with no one in attendance. The German immigrant's only known relative was his father, who lived in Germany.
There were several people who mourned the death of William Nolan, a native of Ireland.
Nolan, 27, was an engineer by trade, working at the High Ore Mine. Members of the Brotherhood of Stationary Engineers described him as "a brother whose utmost endeavors were exerted for its welfare and prosperity; he was a friend and companion dear to us all."
William Copeland, who worked part-time as a fireman, was from the north of Ireland, growing up in the small town of Banbridge in County Down. His brother, the Rev. John Copeland of Dickinson, North Dakota, helped preside over his funeral on Jan. 21.
Hailing from Germany were Matthew Grosser, 37, and Modastus Grosser, 27. The two were not brothers. They were uncle and nephew.
Many of the victims were unrecognizable including Charles Hoffbauer, who was accidentally buried under the name Henry O'Neill. George Devoy, a cigar maker, was identified only because of a distinctive tattoo he had on his left arm.
Young Bailey Dunford had almost no outward signs of injury, but he was ripped up internally. His father, a Salt Lake City dentist, came to the Mining City to retrieve his son. Dunford, 16, was buried in Bloomington, Idaho.
For many of the victims, curiosity got the best of them and they paid the ultimate price.
Joe B. Miller of Salmon, Idaho, was one of those curiosity seekers.
Miller, a lawyer, was staying at Hotel Butte when he heard the first explosion. He went down to investigate and got too close and was killed when the second blast occurred.
Coleman Tracey and Julius Hansen, members of the Salvation Army, were among the dead. Tracey's brother, Melvin, was seriously injured as well.
Edwin Robbins was the oldest victim, nearing 60 years of age. He was a mathematics professor and a Civil War veteran. Members of the Grand Army of the Republic presided over his funeral.
John E. Sloan Sr., a native of County Down, Ireland, was among the dead, along with his two sons, Assistant Fire Chief John Sloan and firefighter Edward Sloan, who was just 19. Young John was married and named assistant chief in May 1893. Edward, when not working, played for the Eclipse Baseball Club.
William Bowe was one of the most seriously wounded. The 25-year-old went in and out of consciousness before slipping into a coma. His mother traveled from North Dakota to be by his side and was with him he died. He was buried in Jamestown, North Dakota.
Not only were George Fifer, Samuel Ash,and Peter Norling full-time firefighters, the three had also taken brides in 1894.
Fifer was an old-hat at marriage compared to the other two. He married Nellie Drew on Feb. 3, 1894.
Next up was Ash, who exchanged vows with Ida Betters on Oct. 1. Finally, it was Peter Norling's turn. He wed Betsy Stamberg on Dec. 8 and his fellow firefighters bought the young couple a sideboard as a wedding gift.
Just weeks after Norling's nuptials, all three women would be widows. Six months later, Ash would become a father, posthumously.
Joseph Laveque, a volunteer, was killed while trying to get water from his own well to help fight the fire. The 41-year-old father of six was killed instantly when he was hit with debris from the explosion. His wife gave birth to their seventh child on the day he was buried.
Laveque was buried at St. Patrick's Cemetery. His widow, with seven children to support, was unable to afford a headstone and his gravesite remains unmarked.
Albert Goddard, 29, was described as an industrious man. He worked as a mason and earned $5 a day at his job. He and his wife, Sophia, were visiting neighbors when they heard the fire alarm sound.
Goddard went to see what was going on and that was the last time Sophia would see her husband alive. Later, his watch would be found among the ruins. The dial had stopped at 10:09 p.m.
Doctors were cautiously optimistic William C. Brink would pull through, but his head injuries were just too extensive. The father of four children, all under the age of 10, was the last victim to die. He died March 27.
Interesting facts
Even though 125 years have passed, there were still some fascinating finds. Some are listed below:
In the days following the explosion, a passerby found the top of a long hook used by firefighters to tear off roofs and pull down burning walls.
On Butte's primary streets, the windows of most homes and businesses were shattered.
Generosity could be found far and wide. San Francisco's firefighters were extremely generous, contributing $2,500 to the families of the firefighters killed. That amount would equal about $77,000 today. Helena residents gave nearly $4,500, which in 2020 would be close to $138,000. Folks from Anaconda gave $2,000 — about $62,000 in today's dollars.
Well-known stage actress Nellie McHenry was performing in Missoula when she got word of the explosion. She gave a benefit performance and donated all proceeds to the Butte Relief Fund.
Sticks of frozen dynamite were found strewn about in the days following the explosion.
The firefighters killed were Chief Angus Cameron, Assistant Chief John Sloan, Sam Ash, Peter J. Norling, George Fifer, Edward Sloan, Dave Moses, J.F. Bowman, W.A. Brokaw, Thomas Burns, William Copeland, Steve Deloughery, and W.H. Nolan.
The remains of Cameron, Ash, Norling and Moses were all buried in the same casket.
Dave Magee and John Flannery, who was manning one of the main hydrants, were the only full-time firefighters to survive the explosion. Flannery would later become police chief in Great Falls. He died in 1940. Magee resigned his position with the fire department in August 1895.
For many years following the disaster, a dinner was held for the survivors on the anniversary.
Frederick Krambeck was the lone police officer killed. The 48-year-old father of two was buried at Mount Moriah Cemetery.
Thirteen of the victims were between the ages of 12 and 19: E. Gibbon Fraser, Charles Alston, Alexander Caddy, Steven Deloughery, Bailey Dunford, Daniel Hickey, Robert Lewis, George MacDonald, John Morgan, James O'Leary, Edward Sloan, William Smith and George Wilton.
Of the 58 victims, 11 were buried at St. Patrick's Cemetery, 35 at Mount Moriah Cemetery. The remaining 12 victims' final resting places included nearby Dillon, and Idaho, Iowa, Minnesota, Missouri and Pennsylvania.
Following any tragedy, morbid people seem to come out of the woodwork and the aftermath of the 1895 explosion was no different. Some residents sifted through the ruins, carting away numerous items. It was reported that a Centerville man was thrilled to find two ribs. Another man found a piece of a skull. Both were keeping them as "souvenirs of the great catastrophe."
———
©2020 The Montana Standard (Butte, Mont.)
McClatchy-Tribune News Service