Authorities seeking masked rioter who cut fire hose
Contact Metro Crime Stoppers at 410-276-8888 or the Arson Hotline at 800-492-7529 with any information about the incident
---
WBALtv.com
BALTIMORE — The Maryland State Fire Marshal is looking for the person who tried to foil firefighting efforts after a CVS was set ablaze during the unrest in Baltimore Monday night.
Deputy State Fire Marshals and the Baltimore City Fire Investigation Bureau are asking for the public's help to find the person responsible for damaging a water supply fire hose during firefighting operations at the CVS store location at W. North Avenue and Pennsylvania Avenue on Monday.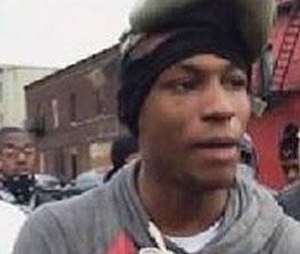 Officials said they captured pictures of the person using a knife to stab holes in the pressurized fire hose. The person is described as a black man with a medium build, wearing a grey-and-red hooded sweatshirt, blue jeans and a gas mask.
Full story: Authorities seek man who tried to foil firefighting efforts