FRI 2018 Quick Take: IAFC and fire service leaders kick off FRI 2018
​​​​​​​At the Opening General Session at Fire-Rescue International, the cream of the fire service crop are honored, and present inspiration for overcoming challenges
---
DALLAS — Fire-Rescue International 2018 is under way, with a new group of leaders being recognized for their excellence and dedication to achieving the fire service mission, and sharing the lessons they've learned with their peers.
Top Quotes from the opening general session at FRI
Following are some of the most notable quotes from the Opening General Session.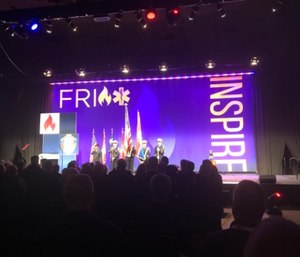 "It's an exciting time in the fire service. Never before in history have we been as well trained, equipped and prepared for whatever the next 911 call asks of us." — Chief Thomas Jenkins, IAFC president
"Thank you. We're doing our best to pay it forward." — Chief W. Nim Kidd, chief, Texas Division of Emergency Medicine, expressing gratitude to attendees whose departments sent firefighters to Texas to help with hurricane Harvey, noting 84 Texas firefighters just arrived in California to help with the wildfires
"I tell my people, it' s OK to not be OK. Because I'm not OK. You can probably hear it in my voice. It is what it is." — Clark County Chief Greg Cassell
Top takeaways, major themes from the FRI Opening General Session
Through IAFC and national fire service leadership speeches, as well as the two Chief Chat presentations, major themes of importance emerged during the Opening General Session – progress and inspiration in three challenges the fire service continues to face:
Diversity.
Mental health.
Cancer.
Here are the top three takeaways from the FRI Opening General Session.
1. Diversity fosters innovation
In the first Chief Chat presentation, Ben Hasan, senior vice president and chief culture, diversity and inclusion officer for Walmart Inc. discussed unconscious bias. Hasan recounted two personal encounters with the fire service that formed his bias towards firefighters.
As a young child, Hasan lost his way from the local market while picking up a loaf of bread for his grandmother. Confused and distraught, he sought help at the local fire station. The firefighters loaded him into the fire truck – "They probably weren't supposed to do that," he noted – and drove him up and down the nearby streets until he was reunited with his family.  That early experience influenced his bias, he explained, associating firefighters in his mind as representing a safe place to go.
Later in life, Hasan received word that his three children were involved in a house fire. Though two of his children escaped unharmed, he tragically lost a son to fire. Hasan credits the responding firefighters, however, with getting his son out of the fire, and giving his family the chance to say goodbye.
In this case, Hasan's bias is a positive one. "Our bias is neither good nor bad," he  noted. "We all have it. The problem with unconscious bias is it's unconscious. We don't know we have it." The key is to develop bias interrupters, and to think twice before allowing bias to insidiously influencing the human resources life cycle of hiring, recruitment, development, assignment, promotion and compensation.
Hasan noted it is up to leaders to create an inclusive environment that fosters diversity, the "secret sauce" to innovation. "In order to innovate, you actually have to differentiate, to do things different ways," he said. To truly do things differently requires embracing different thoughts, ideas, opinions and people – genders and ethnicities – he added.
A successfully inclusive environment will make everyone feel welcome, comfortable and safe to be their whole selves every day and contribute in a way that serves the needs of their end users, Hasan concluded.
2. Allow yourself to be supported after trauma
Clark County Chief Greg Cassell presented a powerful Chief Chat based on his experience responding to the Oct. 1, 2017 Las Vegas shooting at the Mandalay Bay Resort and Casino. Cassell touched on the ongoing impact the tragedy has had on the community. Local businesses who serviced the concert, finding their goods and equipment frozen by the FBI for weeks as they investigated the crime scene, have gone out of business. Local public safety officials who were unable to respond, or away on business, have suffered survivors' guilt. Some have even left the department. And for those who were there that terrible night, the effects are ongoing.
The public safety community, like the civilian one, feels the effects, at each major event held in the city, and at each mass casualty incident leading the headlines. Everything has taken on new meaning in the wake of Oct. 1. During the annual New Year's Eve bash, Cassell reported there were snipers atop every single tower  on the Las Vegas strip. Every time a mass attack occurs, Clark County reaches out to their personnel. "Some are good and some are not," Cassell said.
Cassell shared how the events have impacted him personally. After woken that night by a call, with the chilling words, "Chief, it's happened … and it's really, really, really bad," Cassell headed for the scene, where his first sight was a body being transported by wheelbarrow.
The weight of that night has followed Cassell. "Prepare for this," he told attendees. "It's mentally draining. Be ready for this and allow yourself to be supported. I didn't. I tried to do too much … I'm paying the price now."
3. Data-driven approaches needed to combat firefighter cancer
In his opening remarks, Chief Jenkins noted the progress and victories in the fire service, and expressed his hope for a future when the fire service has vanquished another challenge: firefighter cancer.
Pointing to a decline in firefighter LODDs, Chief G. Keith Bryant, U.S. fire administrator said, "It's going to take us all to change the trend on occupational cancers," noting a staggering three out of five career firefighters are estimated to die from cancer as a result of on-the-job exposure.
Bryant noted the Firefighter Cancer Registry Act, signed into law last month, will provide researchers with the tools and resources they need to better understand and explore innovative prevention protocols.
2018 IAFC awards
The Opening General Session also boasted a number of award presentations, and a symbolic changing of the guard in IAFC leadership.
Pierce Manufacturing President Jim Johnson presented the IAFC Fire Chief of the Year awards:
IAFC Volunteer Fire Chief of the Year: Glen Echo Fire Department Chief Herbert Leusch.
IAFC Career Fire Chief of the Year: San Francisco Fire Department Chief Joanne Hayes-White.
Motorola Solutions Vice President Chris Lonnett presented the 2018 IAFC Ben Franklin Award for Valor:
Captain Kyle Olson, apparatus operator Andrew Brian, and firefighters Scott Kohler and Matt Towner, Clackamas Fire District #1.
Chief Jenkins presented the IAFC President's awards:
Chief Timothy S. Wall, North Farms Ct. Volunteer Fire Department
Sarah Jahnke, Ph.D., director, Center for Fire, Rescue and EMS Health Research at the National Development and Research Institutes
Susan Swenson, First Responder Network Authority
E. Thomas (Tommy) Hicks, IV, IAFC
Finally, Chief Jenkins welcomed the incoming IAFC leadership to the stage:
IAFC President and Chairman of the Board: Chief Dan Eggleston, Albemarle County (Va.) Department of Fire Rescue.
First Vice President: Chief Gary Ludwig, Champaign (Ill.) Fire Department.
Second Vice President: Chief Otto Drozd, Orange County (Fla.) Fire Rescue.
Congratulations to all the awardees!
Top Tweets from #FRI2018
Attendees, presenters and IAFC leadership are tweeting from Dallas at #FRI2018.