IAFC, Pierce Manufacturing announce 2018 Fire Chiefs of the Year
Glen Echo Fire Department Chief Herbert Leusch and San Francisco Fire Department Chief Joanne Hayes-White are this year's honorees
---
By FireRescue1 Staff
DALLAS — The International Association of Fire Chiefs and Pierce Manufacturing announced the winners of the 2018 IAFC Fire Chief of the Year awards.
According to a press release, Glen Echo Fire Department Chief Herbert Leusch and San Francisco Fire Department Chief Joanne Hayes-White are this year's honorees. The two will be recognized Thursday during FRI's general session.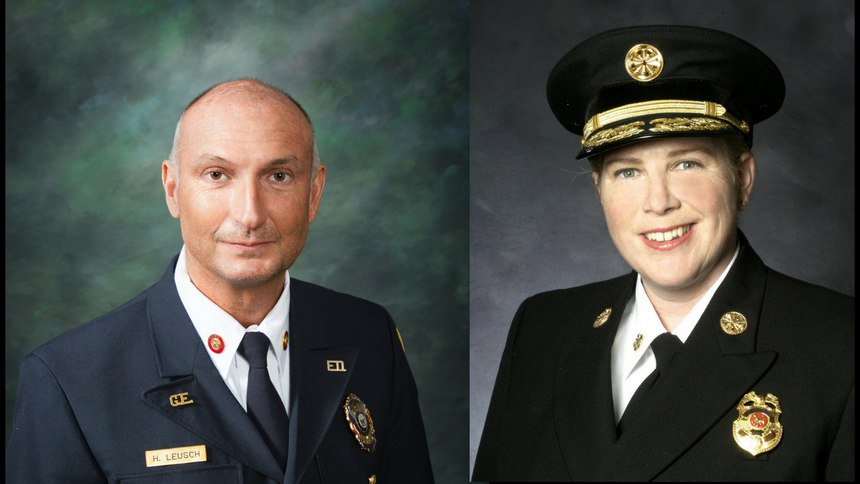 "I look forward to the captivating moment each year when we share the nominations for the two Fire Chief of the Year award honorees," Pierce Manufacturing president Jim Johnson said. "Chief Leusch and Chief Hayes-White have had distinguished careers. These two leaders have shown how to lead with grace, professionalism and devotion that inspires others. On behalf of the Pierce Manufacturing team, we'd like to share heartfelt congratulations to Chiefs Leusch and Hayes-White."
Chief Leusch, who is this year's volunteer fire chief honoree, is a 25-year veteran of the fire service. During his nearly 10 years as chief of GEFD, Chief Leusch has established a bicycle emergency response team, developed a heavy apparatus driver training program and built ALS capabilities within the department.
The chief also co-led a task force in New Orleans after Hurricane Katrina, and has been recognized with several top-responder awards such as a high-level citation for "Dedication and Heroic Service" from Maryland Congressman Chris Van Holland.
Chief Hayes-White, 2018's career fire chief honoree, started her career with the SFFD 28 years ago and was sworn in as chief in 2004. A few of the many changes she has made during her time as chief include implementing random alcohol and drug tests, reconfiguring EMS and restoring promotional exams.
She has also improved diversity and inclusion within the department, increasing the number of female firefighters to 15 percent and the number of minority staff members to 50 percent. As a result, the department was chosen to participate in the Department of Labor Study on Promising Practices for Increasing Diversity Among First Responders.