Ohio city upgrades ambulance equipment and implements notification system
The newest ambulance cot will increase patient handling safety, and the EMS-to-hospital notification system aims to improve patient care
---
By Mike Rutledge
Journal-News, Hamilton, Ohio
HAMILTON, Ohio — Two developments are happening that will make life safer for Hamilton residents when they are sick or injured, officials say.
First, the city has purchased its eighth Stryker ambulance cot and related equipment to outfit its latest ambulance that EMS firefighters use to transport patients to hospitals.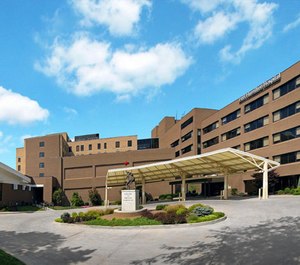 That equipment costs about $40,000 per ambulance, and all Hamilton's vehicles now have the equipment.
"It can be anywhere from a 600- or 700-pound patient, down to a pediatric child, that when they're on the cot, very low to the ground, we press a button, and it has a motor on it, and it raises it up to the level that we need to load it into the squad," said Mark Mignery, EMS Coordinator for Hamilton's fire department.
For patients and firefighters, "the big thing is, a reduction in cot-related injuries," he said. That amount of safety improvement can prevent people with serious spine injuries from becoming paralyzed, and firefighters from receiving injuries that could be career-ending.
In April, Fire Chief Mark Mercer told the Journal-News that one larger Hamilton resident who repeatedly fell and needed assistance led to multiple firefighters' injuries, and tens of thousands of dollars worth of Workers' Compensation issues.
Meanwhile, Kettering Health Network, which operates Fort Hamilton Hospital and others, is implementing a new EMS-to-hospital notification system that lets doctors at the hospital monitor a patient's health information, including the ability to see heart rhythms, minutes before the ambulance has reached them.
That can save lives, Mignery said.
"When we send an EKG, the screen flashes red, nobody can miss it, like 'Something's going on, everybody! Pay attention,'" Mignery said. "So they go over and look at it, and that's what gets the doctors' attention."
"This will allow that real-time data transmission between EMS, the hospital system," he said.
"They have created a platform to where we hit 'complete' on our reports, it doesn't get paper faxed over to the ER," Mignery said. Instead, "What happens is it gets electronically inputted into their hospital chart."
John Weimer, Kettering's vice president of network emergency, trauma and operations command center, said: "Our EMS teams provide a high level of care to our community. They are on the front lines of patient care. This technology will help free them up so they can focus on caring for the patient at a point of care when minutes matter."
It also will allow Hamilton's EMS teams to better follow-up on what happened with patients, Mignery said, because, "We want to know how did our care affect your care terminally at the hospital."
"From my understanding, we'll be able to access certain portions of your chart as a continuum of care, and us doing quality-assurance and learning your outcome so that we can better ourselves, our knowledge, for future patients," Mignery said. "We'll be able to see how you did, and your outcome."
"This is very cutting-edge regarding EMS data implementation into the (hospital) charts," he said. He expects other hospital systems to follow.
———
©2019 the Journal-News (Hamilton, Ohio)
McClatchy-Tribune News Service