N.C. city evacuates more than 300 people after EMS raises carbon monoxide concerns
EMS officials said carbon monoxide exposure could not be ruled out in the deaths of two infants at a public housing complex
---
Virginia Bridges and Mark Schultz
The News & Observer (Raleigh, N.C.)
DURHAM COUNTY, N.C. — The Durham Housing Authority began evacuating 111 families from the McDougald Terrace public housing community to local hotels Friday amid ongoing concerns about carbon monoxide exposure.
Anthony Scott, DHA's chief executive officer, contacted county officials Friday to help coordinate the move of 342 people following concerns about carbon monoxide and other conditions at the complex, according to an email obtained by The News & Observer.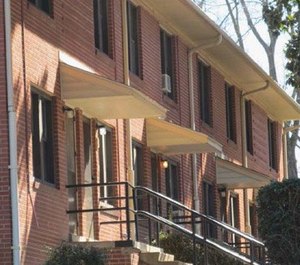 "It's in process right now," Wendy Jacobs, chair of the Durham County Board of Commissioners, said late Friday afternoon. "It's going to be a huge effort to find places for these people."
The move follows a tense meeting Thursday afternoon at which McDougald Terrace residents and others accused DHA of ignoring unsafe living conditions.
At the meeting an Emergency Medical Services official said the county could not rule out carbon monoxide in the recent deaths of two infants at the complex until autopsies are done, even though the Fire Department has said it found no indication of the odorless gas in the incidents.
Scott did not mention at the meeting any plans to move families. Jacobs said the decision was made amid continuing health and safety concerns.
"At this point it is a public health situation, and we just need to immediately address it," she said.
3 pediatric arrests, 2 infants have died
There have been roughly 10 incidents possibly involving carbon monoxide since Nov. 20, 2019, according to an email Friday from Jim Groves, the Durham County fire marshal and emergency management director. Seven involved children, which includes two children taken to the hospital Thursday.
"(The Durham Fire Department) checked several apartments and DHA was contacted to make repairs to a hot water heater in one of them," Groves wrote about the Thursday exposures.
There have been three pediatric arrests, according to his email. Two of the children died, while the third is at Duke University Hospital.
"It is pertinent to note that only one of these cases has a CO reading: the survivor, (a) 16 day old who was (in) respiratory arrest, had a CO of 16," according to the email. "The other 2 cardiac arrest cases do not have a CO reading since they were active CPR incidents and obtaining a CO reading is not part of the current EMS protocol."
A 1-year-old had a CO level of 21 and was discharged home, the email states.
Emergency workers use a finger monitor to estimate carboxyhemoglobin level in the blood, Groves said.
The monitors can sometimes result in erroneous readings, said Dr. Richard Moon, a professor and medical director for the Center for the Hyperbaric Medicine and Environmental Physiology at Duke University Medical Center.
A reading of 16% "is very abnormal" and would indicate a significant level of carbon monoxide, he said.
Levels above 15% would be treated with oxygen. Levels above 25% would raise concerns about long-term health effects and likely would be treated with hyperbaric oxygen therapy.
"If you have children with (actual blood) levels of 16 and 21 percent, they were exposed to toxic levels of carbon monoxide," Moon said.
EMS notified housing authority
Groves said had it not been for county emergency workers paying attention to the number of calls coming from McDougald Terrace even more people would have been affected.
"It is important to know that if it were not for our EMS team noticing the high number of CO cases and making notification to Fire, Emergency Management and the DHA, the actions that have taken place over the past week or so may not have occurred and the CO incidents might continue to occur in McDougald Terrace," he wrote. "I'm very proud of the proactive work from our EMS team, as well as the teamwork from all involved as we try to determine the root cause of these incidents."
After EMS raised concerns, various agencies started a three-day canvas of the public housing complex Dec. 27 to determine whether an immediate evacuation was needed. Officials found no or low CO readings in homes during the canvas, Fire Chief Robert Zoldos wrote in a letter to Scott. But he said those readings didn't clear the complex of a carbon monoxide problem since it was a warm day that reduced the need for home-heating and people were coming in and out of the homes.
One child and two adults were found to have elevated levels during the canvas.
In an email to city and county officials, Zoldos said the canvas found smoke detectors that appeared too old to work and "CO units were installed in inappropriate positions including on the ceiling above ceiling fans."
Zoldos recommended a thorough follow-up inspection of all fuel-burning appliances.
34 out of 100
In a Dec. 18 interview, Scott said the U.S. Department of Housing and Urban Development generally inspects public housing complexes every year or so.
McDougald Terrace was completed in 1953 and has about 360 apartments. It was last inspected in May 2018.
Out of a potential 100 score, it received a 34, according to the report. A 60 is considered failing, Scott said.
Scott said he believed the previous year's score was around 43.
HUD inspected 26 buildings and 25 units at the complex during the May 2018 review.
The inspection noted 72 health and safety deficiencies and projected there were about 820 on the property.
About 24 of the deficiencies were considered life threatening with a projected total of 331 on the property.
Deficiencies included insect and roach infestations, mold, a misaligned chimney, and problems with ventilation for gas and water heaters.
Scott, who started as CEO in 2016, linked the conditions at McDougald Terrace to a reduction in federal funding and staff turnover as well as the age of the city's oldest public housing complex.
In the December interview Scott said he didn't know how many of the deficiencies had been addressed but said he expected significant improvements after the recent hiring of Emanuel Foster as director of housing operations.
"In 2021, we will not have any property that is less than (a) 60," he said.
Food, transportation, medical care
The Durham County Department of Social Services is making sure affected families have food, transportation and medical care and that children are taken to their regular schools Monday when classes resume after the holiday break, Jacobs said.
"We're trying to be as supportive as possible," Jacobs said. "The county really doesn't have any direct authority over Durham Housing Authority properties."
In a statement, DHA said it's conducting "a voluntary relocation" for McDougald Terrace residents to hotels until the risks have been eliminated.
"We are taking immediate action to relocate everyone impacted while working with a cross-functional response team to stabilize the units," the statement said. "We are communicating directly with residents of the community and additional updates will be provided once the voluntary relocation is safely completed."
———
©2020 The News & Observer (Raleigh, N.C.)
McClatchy-Tribune News Service