Q&A: Hazmat ready: Firefighter response levels and training
Joe Kratochvil outlines preparation, training and safety considerations for these high-risk incidents
---
Hazmat operations are high-risk/low-frequency events to which a variety of agencies respond. As such, it's imperative that all personnel understand the risks involved, their individual duties on scene, and when to pull back and allow for more specialized teams to step in.
To clarify the roles and responsibilities of the different response levels – and how to train to these levels – Fire Chief connected with Joe Kratochvil, IAFC program training subject-matter expert, who previously served in varying fire capacities with the Fairfax County (Virginia) Fire and Rescue Department and the Culpeper County (Virginia) Volunteer Fire Department. He has served as a hazardous materials specialist with the Fairfax County Hazardous Materials Response Team and as hazardous materials manager for Fairfax County Urban Search and Rescue Team VATF-1/USA-1, and has been a hazardous materials instructor for 30 years.
Fire Chief: How can fire departments best coordinate with other agencies or groups that potentially have more technical experience with hazmat incidents?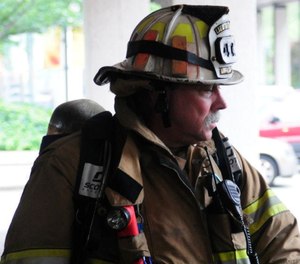 Kratochvil: There are several ways fire department can coordinate with other agencies:
Hold regular meetings with the Local Emergency Planning Committee (LEPC);
Preplan;
Conduct joint training with community groups and neighboring agencies;
Identify the department's strengths and weaknesses and work to rectify the issues; and
Identify how other agencies or groups can assist.
Can you describe some of the differences among Awareness-, Operations- and Technician-level training?
Kratochvil: The Occupational Safety & Health Administration (OSHA) Standard 1910.120 Hazardous Waste Operations and Emergency Response (HAZWOPER), along with NFPA 472: Standard for Competence of Responders to Hazardous Materials/Weapons of Mass Destruction Incidents (2018) and NFPA 1072: Standard for Hazardous Materials/Weapons of Mass Destruction Emergency Response Personnel Professional Qualifications, list the requirements for Awareness, Operations, Technician and Specialist as follows:
First Responder Awareness level: Individuals who are likely to witness or discover a hazardous substance release and who have been trained to initiate an emergency response sequence by notifying the proper authorities of the release.
First Responder Operations level: Individuals who respond to releases or potential releases of hazardous substances as part of the initial response to the site for the purpose of protecting nearby persons, property or the environment from the effects of the release.
Hazardous Materials Technician level: Individuals who respond to releases or potential releases for the purpose of stopping the release. They assume a more aggressive role than a first responder at the operations level in that they will approach the point of release in order to plug, patch or otherwise stop the release of a hazardous substance.
Hazardous Materials Specialist level: Individuals who respond with and provide support to hazardous materials technicians. Their duties parallel those of the hazardous materials technician; however, those duties require a more directed or specific knowledge of the various substances they may be called upon to contain. The hazardous materials specialist would also act as the site liaison with federal, state, local and other government authorities regarding site activities.
What is the training level to which most firefighters are trained for hazmat incidents – Awareness? Operations?
Kratochvil: Unfortunately, in a lot of areas, due to a variety of reasons, I believe the level of training would be only the First Responder Awareness level. However, if the firefighters have been trained to the NFPA 1001: Standard for Fire Fighter Professional Qualifications Standard Firefighter 2 level, they should have received the First Responder Operations level. Ideally, all firefighters should be trained to the Operations level.
What department types should have hazmat-focused teams and Technician-level personnel?
Kratochvil: As noted, all departments should have personnel who are at least hazmat Operations-level trained, particularly departments with transportation-specific hazard threats (railways, pipelines, maritime facilities or airports), industrial or agricultural facilities or general goods stores, such as Walmart, Target, Lowe's, Home Depot, supermarkets, etc.
Technician-level teams should be in areas that have available staffing, where personnel are appropriately trained to the NFPA technician/specialist level, and where departments can purchase and properly maintain specialized equipment.
What do you recommend for back-to-basics hazmat training?
Kratochvil: While the list dealing with back-to-basics hazmat training is endless, here are a few examples.
While a classroom is the standard learning location, there is a need to move the students, at some point, to a potential incident site. This can be done by working with local stores/industry/transportation operators to bring responders to the specific location. In that way, they would learn what, where and the amount of hazardous materials stored at the locations. It would also allow the responders the opportunity to hold exercises and train where an incident is likely to occur, making them more familiar with the location, transportation mode and product.
Another way is conducting practical exercises using the Emergency Response Guidebook to identify hazards and response objectives. This can be accomplished easily in a classroom, using photographs of trucks, rail cars, placards and/or actual placards, truck/rail car models. 
Also, in a classroom setting, review the capabilities, limitations and operation of department meters. At the end, use household items for a detection and monitoring training exercise to provide a hands-on component reinforcing what was learned in the classroom.
Finally, to build interest and gain additional knowledge for department members who are likely to respond to a hazmat incident, involve them with the planning of a department drill. This can help them understand how to plan a response plus gain/reinforce knowledge from information in the exercise goals and objectives. They then should be able to understand the response priorities needed during the size-up and incident mitigation.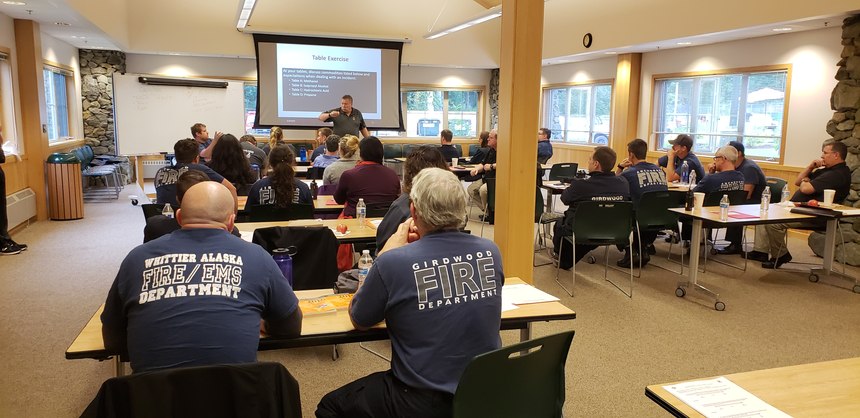 What are the most important safety considerations for firefighters arriving on the scene of a suspected or known hazmat incident?
Kratochvil: Prior to and upon arrival, firefighters should be considering any life safety issues that may be present. Removing those affected and preventing others from entering the area is the primary consideration. Then, using the initial isolation area for a spill or leak that is listed in the Emergency Response Guidebook (ERG), set up the Exclusion or Hot Zone. For each of the Orange guides, the second bullet point under PUBLIC SAFETY will list the recommended distance for that zone: for a solid – 75 feet (25 meters), for a liquid – 150 feet (50 meters), and a gas – 330 feet (100 meters).
The product information should be identified next. If you can get a name great, but what is more important is the chemical/physical properties and hazards. First, what physical state is it in – solid, liquid or gas? This will provide initial direction as to how the incident will be handled (e.g., damming, diking, vapor dispersion). Next, use detection and monitoring equipment to determine the hazards and other chemical/physical properties. You can identify flammable vapors using a combustible gas indicator (CGI), corrosive vapors in air, and if there is a significant vapor pressure using pH paper, fluorine present in the air with fluorine (F) paper, level of oxygen with an O2 sensor, and ambient air temperature or rising temperature due to a reaction in a container or on the ground using a temperature gun.
Topography will determine where a liquid or vapors will travel and identify the main areas for possible evacuation or shelter-in-place. It will also isolate where the damming and diking operations will be needed to contain any runoff.
Likewise, weather will play a part in product movement and could increase or decrease the hazards present. The wind could move the vapors to an occupied area or help to dilute them. Elevated temperatures could increase the product vapor pressure, change its physical state and, if flammable, the flash point, making it easier to ignite. Conversely, a lower temperature would reverse those conditions, possibly making things better. And moisture could also create a more hazardous situation or improve conditions depending on the chemical/physical properties.
Yet another safety consideration is to ensure that there is an emergency decontamination area established and all personnel are aware of its location. This will be a time saver in the treatment of any civilian or responder patients should they become contaminated by the product involved.
What are clues that firefighters should watch for to signal there may be a hazmat component to a "routine" call?
Kratochvil: The first clue would be provided during the incident dispatch. The address provided will give the location, but it will also provide the type of occupancy. If the responders know their response area and have preplanned, the initial dispatch will be the first signal of a potential hazmat call. If it is a transportation incident, the dispatch clues would include types of rail/tank cars involved, pipeline, ship/barge, truck trailer/tank and/or placards that would be involved.
Upon arrival, if there are individuals involved, look for them exhibiting any signs and symptoms of a possible hazardous materials exposure. They will literally become a human meter, indicating possible hazards that may be present.
Look at container shapes and sizes; this will provide clues to the physical state of the product – solid, liquid or gas – and how much product will be present.
On fixed facilities, be aware of the NFPA 704 system diamond, and for all, be aware of unusual sights, sounds and odors. While the "nasal appraisal" is not a recommended method for hazardous materials identification, you may get odor information from the exposed patients.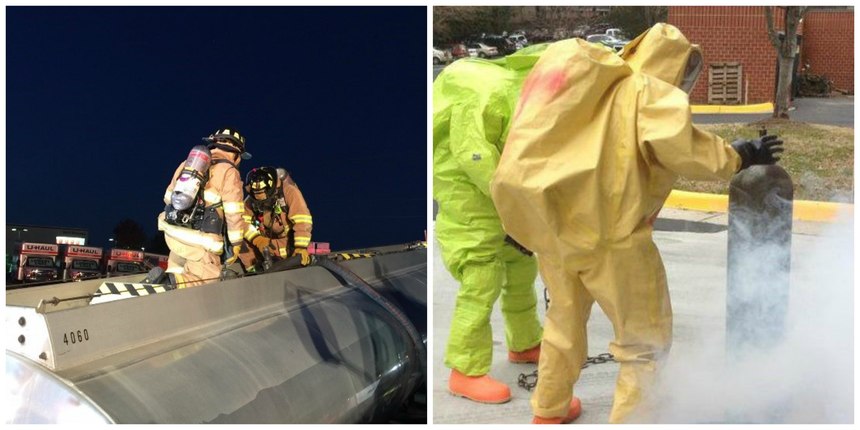 At what point to firefighters need to pull back and wait for advanced teams?
Kratochvil: This should occur when there is no life safety issue, when there is no exposure problem, and when the firefighters' level of training and/or equipment cache to handle the incident is exceeded.
What are the go-to tools for firefighters responding to a hazmat incident?
Kratochvil: The following, while cost-prohibitive for some, should be the minimum, as all the hazards they detect are invisible:
Radiation meter – for nuclear radiation
pH paper – to identify a corrosive atmosphere or substance
Fluorine paper – to identify if fluorine is present
Temp gun – to locate a reaction outside or inside a container
Four-gas meter – to specifically determine if there is a flammable environment, and the level of oxygen
How are chemical hazmat calls particularly dangerous for firefighters?
Kratochvil: There are many ways hazmat call are dangerous:
Thermal harm that can cause either hot or cold burns to individuals;
Radiological energy, which cannot be seen, in the form of waves or particles;
Lack of appropriate PPE when entering an oxygen-deficient atmosphere;
Exposure to toxic or corrosive materials without proper protective clothing and SCBA; and
Encountering a sharp edge of a container and being cut, or being in the area of an exploding container.
Further, many times, the exposure may not have an immediate impact, but instead, months or years later manifest as cancer or another illness.
Does the IAFC offer any hazmat-specific resources for firefighters and fire chiefs?
Kratochvil: The IAFC Hazardous Materials Fusion Center offers training via online courses such as:
Response to Rail Incidents, Hazmat Awareness, Pipeline Emergency Response Training
Instructor led – Rail Incident Emergency Preparedness, Pipeline Emergency Preparedness
The IAFC Hazardous Materials Fusion Center also provides extensive planning and response resources for firefighters, officers, chief officers, emergency managers and community leaders alike.
Is there anything else you'd like to add about responding to hazmat incidents?
Kratochvil: While many may think that the only hazmat incidents that first responders deal with are specific chemicals in a fixed facility or being moved through the transportation modes, these incidents, for the most part, deal with a known commodity. So, most times the responder knows what they have been exposed to.
In fact, vehicle fires and structural fires, especially house fires, are probably the worst hazmat incidents responders will be exposed to. The burning plastics and hydrocarbon products of combustion create a toxic soup of cancer-causing smoke and particles that creates unknown chemical exposures to the responders. Providing an on-site decontamination site on the fireground to allow the responders an opportunity to clean their gear and themselves should be set up on every fire incident.
Meet with the local pipeline operators (transmission and distribution), local rail representatives and fixed-facility representatives before an incident. Understand the abilities and expectations of each group, plan and train together for an incident, and continually work together to minimize any potential incident problems.