Md. governor lowers flags after death of firefighter
Firefighter Michael Powers, a longtime volunteer with the Libertytown Volunteer Fire Department, died Tuesday after responding to a car crash
---
FREDERICK, Md. — Gov. Larry Hogan ordered the immediate lowering of the U.S. and Maryland flags after the death Tuesday of a Frederick County volunteer firefighter.
Firefighter Michael Powers, a longtime volunteer with the Libertytown Volunteer Fire Department, died Tuesday after responding to a car crash on Md. 26 in Unionville.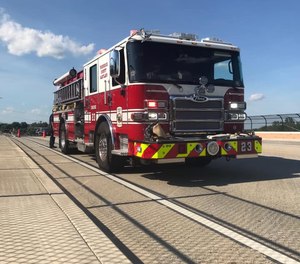 Powers arrived there driving one of the engines from the Libertytown Volunteer Fire Department. He collapsed a short time later and was pronounced dead at Frederick Memorial Hospital at 2:21 p.m. Tuesday.
Powers, who worked for Montgomery County Public Schools, started volunteering more than 40 years ago at the Brunswick Volunteer Fire Co.
The family will receive friends on Friday from 2 p.m. to 4 p.m. and 6 p.m. to 8 p.m. at the Libertytown Volunteer Fire Department, 12027 South Street.
A celebration of life will be on Saturday at 11 a.m. Burial will be at Glade Cemetery.
Hogan announced that flags should remain at half-staff until after Powers is buried.
———
©2019 The Frederick News-Post (Frederick, Md.)
McClatchy-Tribune News Service