Ohio fire captain death ruled LODD after 4 years
Townsend Township Fire Capt. Charles Horning died on Oct. 13, 2015, from a heart attack related to a fire earlier that morning
---
Zoe Greszler
Norwalk Reflector, Ohio
NORWALK, Ohio — A special commemorative memorial service took place Saturday for an area firefighter who died in 2015.
The death of Townsend Township Fire Capt. Charles Horning only recently was ruled as something that happened in the line of duty.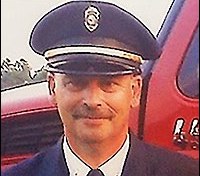 A group of people from the township and surrounding areas showed up Saturday morning at the Fallen Firefighter Memorial on Shady Lane Drive in Norwalk to honor Horning's sacrifice. Family, friends and other firefighters added his name to the list of five others already on the statue, recognized for paying the ultimate price in their service of keeping the community safe.
He joined Norwalk Chief William Bascom, Bellevue Chief Van Barklow, Norwalk firefighter Edward Haas, Plymouth firefighter Mark Didion and Bellevue Lt. James Harvey.
Horning died from a heart attack shortly before noon Oct. 13, 2015, something deemed to have been related to the fire earlier that day.
Typically any natural cause of death that occurs within 24 hours of a fire call can be ruled as dying "in the line of duty" for firefighters.
"He was a good firefighter, very involved," Townsend Chief Michael Hahn said in a previous interview.
"He always was willing to help out and to help younger guys train. Not just the younger guys, though — he wanted to help train the whole department, to help the whole department get better as a whole and be the best. ... His favorite was vehicle extraction training. He loved that."
———
©2019 the Norwalk Reflector (Norwalk, Ohio)
McClatchy-Tribune News Service