Not in it for the awards: NM fire chief opens up about commitment to her department, community and the future generation of volunteers
Chief jona olsson won the IAFC Volunteer Fire Chief of the Year Award in 2012
---
In 2014, I sat in on a session at the Fire-Rescue International conference in Dallas. With only a year of experience as an associate editor for FireRescue1 under my belt, my then-editor wanted me to be exposed to as many sessions I could attend in a day.
The only catch: He didn't want me to write about any of them. He just wanted me to listen.
The first session I attended was a presentation by Latir (New Mexico) Volunteer Fire Department Chief jona olsson (lowercase intentional). She was discussing a topic I was very interested in – women in the fire service. Alongside her was Laura Baker, the first female assistant chief for the Tucson (Arizona) Fire Department. I later reconnected with Baker and wrote about her breast cancer diagnosis, treatment and, ultimately, her cancer-free victory.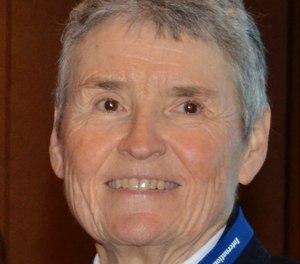 These two women inspired me. So much so that I ignored the advice of my editor and wrote pages upon pages of notes. After the day was over, I returned home and read over my notes (which I still have today).
At the bottom, I wrote: Start searching for and including more stories about female firefighters.
Over the next four years, this became my personal mission – later penning a feature-length retelling of the struggles and triumphs of multiple women who rose through the ranks in different areas of the San Francisco Fire Department.
It's no surprise that Chief olsson, who won the International Association of Fire Chiefs (IAFC) Volunteer Fire Chief of the Year Award in 2012, has continued to inspire her own members. Under her leadership, Latir VFD members are 50% women.
"We may have to start recruiting men soon," olsson joked.
I interviewed Chief olsson about what inspired her to become a fire chief, advice she would give to her newly appointed self and what she believes to be the recipe for Fire Chief of the Year success.
What (or who) inspired you to become a fire chief, and what does that title mean to you?
Chief olsson: As I came up through the ranks (firefighter, company officer, training officer, deputy chief), each role offered new learning, responsibilities and opportunities to inspire and lead change that could improve our community service and the lives of our personnel. In many volunteer departments like ours, this is an elected position. A chief must have the confidence of her team, and be a trustworthy servant leader to earn the privilege of leadership.
A few local, long-serving volunteer chiefs modeled for me very different leadership styles – each one offering crucial lessons. On the national level, Charleston (S.C.) Fire Department Chief Tom Carr truly lived his belief in servant leadership.
What was your reaction upon learning that you were selected as Fire Chief of the Year?
In a word: Stunned. When I was told I had been nominated, I'm not even sure I knew the award existed. I was certain I had not been in the role long enough, had not accomplished enough, and knew how much I still needed to learn and achieve, both locally and nationally.
Some may not understand this next reaction – I tried to decline the award.
To use a sports metaphor, I have never believed "most valuable player" awards contributed to the success of any team. For our department and the dozens of volunteer departments in our northern New Mexico region, served by dozens of chiefs, I recognized that focus on a single person could instill resentment, as well as pride for our region and state. The credibility of Latir VFD was already questioned, as it was led by the only woman chief in this part of the state.
While I was incredibly honored, I was wary of the attention.
If you could go back and tell yourself (as a newly appointed fire chief) one thing/piece of advice, what would it be?
You can truly serve your community and your personnel – ONLY if they trust you. Make your core values visible; let an ethical and moral compass guide you, demonstrate your integrity even when others "suggest" you compromise those values.
What advice would you give to this year's Career and Volunteer Fire Chief of the Year?
Breathe. Standing backstage waiting to formally receive your award is more stressful than a multiple alarm incident. Next, take that award home and thank – really thank – your family and your team. Then, just get back to work and serve your community and your people.
In your opinion, what's the biggest issue fire chiefs should be concerned about today? And, why?
The physical, emotional and mental health of our responders.
I am grateful that cancer is finally getting the attention and interventions it must have. We are also finally recognizing the impact of cumulative stress and working to eliminate the stigma of seeking help.
However, we are still in denial of the negative health effects on our personnel of bullying, discrimination, harassment based on racial identity, gender, gender identity, sexual orientation, class, spirituality and other forms of human diversity. Until our organizations are genuinely inclusive, and reflective of our communities, we cannot fulfill both mission commitments: to offer the highest quality service to every customer, from every community, while protecting the health and safety of our personnel.
Also, the state of volunteer fire and EMS service in the United States is a national crisis that few want to admit – let alone address. Especially in rural areas, each year we experience fewer volunteers with fewer resources and an aging and underinsured population (this includes many of our volunteer firefighters).
Through the current systematic destruction of the nation's healthcare and other social and worker support systems, the volunteer fire service is THE "safety net." This is unsustainable.
What change(s) do you expect to see in the role of fire chief over the next 5 years?
Increasingly diverse communities that should result in more diverse departments. Younger generation leaders with some fresh approaches to leadership. Technology will be full of changes, challenges and opportunities.
Maybe not in five years, but there must be changes to the unsustainable volunteer fire and EMS service that serves over half the population of the nation.
For those who aspire to achieve such a prestigious award, what do you believe the recipe for Fire Chief of the Year success is?
I doubt there are many who actually "aspire to achieve" this award. Most are not in this role to receive awards, but instead avoid singular attention and recognize that most often the achievements attributed to the chief are the result of the initiative, commitment and courage of the department members.
Editor's Note: The Fire Chief of the Year award honors one career and one volunteer fire chief for their leadership, innovation, professional development, integrity, service to the public and contributions to the fire service. Learn more about the award here.