2 FDNY FFs hurt in high-rise fire that killed 17
The two members were hospitalized after working to rescue people in the burning apartment building; they have since been released
---
By Leila Merrill
NEW YORK — Two firefighters were injured Sunday in the Bronx apartment fire that killed 17 people and injured dozens, FDNY Lt. James McCarthy, president of the Uniformed Firefighters Association, told Pix 11.
The two firefighters were hospitalized on Sunday, and have since been released.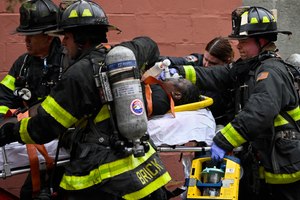 "There was consideration of putting them in the hyperbaric chamber, to do oxygen therapy," he said. "But they have recovered from those injuries and have been sent home."
McCarthy said that firefighters' oxygen tanks hold about 45 minutes' worth of air and have a 10-minute escape period after an alarm sounds."When they're trying to save lives, especially with situations like this, they'll work past when the alarm goes off … until they save lives, and continue doing their jobs as long as possible, and then exit at the last minute," he said.
FDNY said that about 200 firefighters responded to the blaze. A malfunctioning space heater is suspected as the cause of the fire that filled the high-rise building with thick smoke.