2 Ind. firefighters injured in ceiling collapse
One of the firefighters sustained an arm injury and the other suffered a concussion
---
Traci Miller
The Herald Bulletin, Anderson, Ind.
ALEXANDRIA, Ind. — Two firefighters were injured in an early morning fire on Monday.
Alexandria Fire Chief Brian Cuneo said his department received a call of a residential fire in the 200 block of East First Avenue at 12:22 a.m.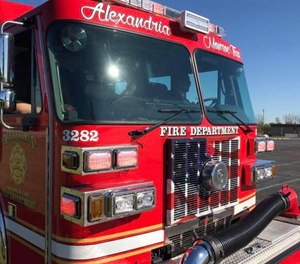 When firefighters arrived, the unoccupied home was showing heavy flames from the rear of the residence. Mutual aid was then requested from Summitville, Richland Township, Lafayette Township, Pipe Creek, Elwood, Chesterfield and the Frankton Ambulance.
Cuneo said the home was being remodeled prior to the fire and is considered a total loss.
Around 1:15 a.m. a ceiling collapsed in a room injuring two of the Alexandria firefighters. Cuneo said initially they thought one of the firefighters had a broken arm and while the man does have an arm injury, he did not break any bones and is cleared to return to work.
A second firefighter suffered a head injury and will be off for a period of time for a concussion and back pain, Cuneo said.
"We want to play it safe," he said.
Cuneo said both firefighters were treated and released.
The cause of the fire remains under investigation.
———
©2020 The Herald Bulletin (Anderson, Ind.)
McClatchy-Tribune News Service