3 Pa. firefighters injured battling 3-alarm blaze
Two dogs were rescued during the blaze that burned a row of six homes
---
Sarah Cassi
The Express-Times
BETHLEHEM TOWNSHIP, Pa. — Three firefighters were hurt Monday afternoon and two dogs were rescued from a three-alarm blaze in a row of townhomes in Bethlehem Township, authorities said.
Fire crews were called to the 100 block of Independence Court in the Penn's Farm development off of Farmersville Road and across from Green Pond Country Club in the township.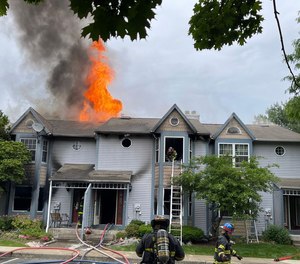 Tall flames and black smoke could be seen coming from the roof line of the row of the six homes, and the smoke was visible on Route 22.
It was called as a two-alarm blaze, and then raised to a three-alarm fire a little before 4 p.m.
Nancy Run fire Chief Nolan Rampulla said three firefighters suffered minor injuries, and two were taken to a local hospital for treatment.
No residents or pets were injured, but Bethlehem Township police rescued two dogs from the blaze, Rampulla said.
Five of the six units were uninhabitable, and between 15 and 20 people were displaced, he said. The Red Cross was called to assist those who needed it.
The owner of the sixth unit that was habitable was advised to stay somewhere else for the night, since power was cut to the row of homes, authorities said.
The cause of fire is under investigation, and multiple fire marshals were at the scene, Rampulla said. The investigation is expected to continue over the next few days.
Crews were initially given an incorrect address, the chief said, but he credited crews with limiting the damage despite how advanced the blaze was when firefighters arrived.
All told, nine fire departments responded.
___
©2021 Advance Local Media LLC
McClatchy-Tribune News Service