Conn. FF injured in fall down 20-foot slope while battling brush fire
Officials said the Stafford firefighter was drifting in and out of consciousness as a rescue team aided her
---
Christine Dempsey
Hartford Courant
STAFFORD, Conn. — A Stafford firefighter is recovering from injuries suffered Tuesday when she fell and rolled some 20 feet down a steep slope while battling a brush fire, the chief said.
She remains in Bay State Medical Center in Springfield, David Lucia, chief of Stafford Fire Department No. 1, said Thursday. He hasn't received any reports of major bones being broken, he said. He declined to release her name.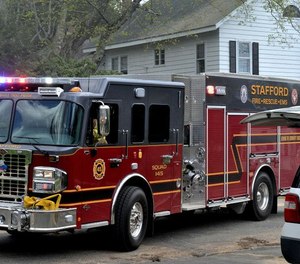 Firefighters from seven departments in two states fought the brush fire, which burned four acres and came within 100 yards of Riverside Village II apartments at 102 Furnace Ave., Lucia said.
They were called to the fire about 6 p.m. Crews came from Ellington, Union, Willington, Wales, Mass. and Monson, Mass. It wasn't out until about 10:30 or 11 p.m., he said.
A rescue team removed the injured firefighter, who was drifting in and out of consciousness, Lucia said. She was airlifted to Bay State.
She was lucky rocks and saplings stopped her fall, he said. If she had gone farther, she would have plummeted straight down an even steeper drop.
"About 40 feet from her, there was a direct drop of about 30 feet," Lucia said.
Firefighters worked to remove her, and she was airlifted to Bay State, Lucia said.
___
©2021 Hartford Courant
McClatchy-Tribune News Service