Iowa firefighter injured in silo fire in January returns to light duty
Clinton firefighter Adam Cain was hospitalized for 20 days after the explosion at the beginning of the year before being allowed to go home
---
Thomas Geyer
Quad City Times, Davenport, Iowa
CLINTON, Iowa — Clinton firefighter Adam Cain, who was severely injured Jan. 5 while fighting a silo fire at the ADM Grain Facility in Clinton, will return to light duty at the fire station at 7 a.m. Wednesday, according to a post on the department's Facebook page.
Cain was hospitalized for 20 days before being released to go home.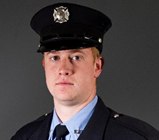 Clinton firefighters were battling a fire in a silo at the ADM Grain Facility early Jan. 5 when there was an explosion at 8:45 a.m.
Clinton Fire Department Lt. Eric Hosette, 33, a 12-year veteran who also served as chief of the Charlotte Volunteer Fire Department, was killed.
Clinton Fire Chief Mike Brown said during a news conference Jan. 5 that two shifts were involved in fighting the fire that was reported at 5:45 a.m.
"The first shift went in and stabilized the fire somewhat," Brown said. "We traded off shifts at 7 a.m. like we do every day and then about 8:45 a.m., in what we thought was a stabilizing incident, there was an explosion."
Hosette was taken to Mercy Medical Center, Clinton, where Brown said the medical staff "did everything possible to try and revive him."
"He was a fine man with a wife and young daughter," Brown added.
The fire and explosion remain under investigation.
———
©2019 Quad City Times, Davenport, Iowa
McClatchy-Tribune News Service