NJ fire truck hits, seriously injures pedestrian
The woman was crossing the street when she was struck by a fire truck that was not responding to an emergency
---
By Laura French
HADDONFIELD, N.J. — A woman crossing the street was struck by a fire truck in New Jersey on Sunday, causing serious injuries.
The Haddon Fire Company truck was detailed for a community service assignment recognizing a local high school swim team when it struck the pedestrian, according to a statement from the agency.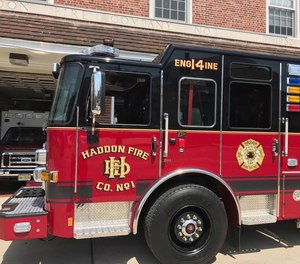 Haddonfield Commissioner of Public Affairs and Public Safety Bianco Bezich said because the truck was not responding to an emergency, it did not have its sirens activated, according to Patch.com.
"Due to the accident, our priority immediately shifted to the care and transport of the pedestrian and those involved," the fire company said on Facebook.
The Camden County Prosecutor's Office is investigating the incident.
The current condition of the pedestrian has not been reported.