NJ junior firefighter seriously injured at blaze
The 17-year-old Ridgefield Park volunteer was injured when a pressurized cannister exploded
---
By Laura French
RIDGEFIELD PARK, N.J. — A New Jersey junior firefighter suffered serious injuries when a pressurized canister exploded at a fire scene Sunday. 
The 17-year-old Ridgefield Park volunteer responded to a trash bin fire at a restaurant and was injured in the explosion shortly after arriving at the scene, according to the Lyndhurst Daily Voice. The canister was reportedly stored on a wooden pallet near the burning trash bin.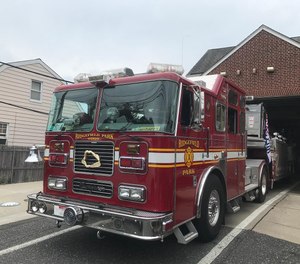 First responders said the junior firefighter was transported to the hospital and underwent emergency surgery. He reportedly suffered broken bones in his lower leg and hands. 
The blaze at the restaurant was raised to two alarms after spreading to the exterior of the restaurant and was brought under control after about 45 minutes. 
The Bergen County Sheriff's Office is investigating the incident.