NM firefighter released from hospital after June fireworks explosion
Hoby Bonham was released from the hospital after the June 5 fireworks explosion that sent two firefighters to the hospital and left 10 other firefighters with minor injuries
---
By FireRescue1 Staff 
ROSWELL, N.M. — The Lubbock Hospital released one of two Roswell firefighters who were critically injured during a fireworks explosion in June.
Hoby Bonham was released from the hospital after a fireworks explosion sent two firefighters to the hospital and left 10 other firefighters with minor injuries, KRQE reports. The firefighters were handling the explosives and preparing for a Fourth of July show.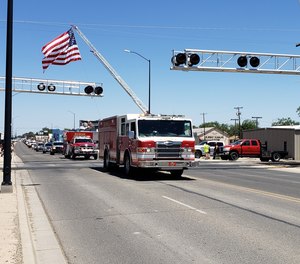 Firefighter Jeff Strobe is still at the hospital fighting for his life, according to his family.
Bonham's community raised thousands of dollars to help him and his family with the cost of medical bills. He now wants to focus on getting better and staying on top of his therapy.
"I'm beat, and I've got a lot of work on getting these grafts to where they'll close in and stretched out for lack of better words," said Bonham.
In an interview with KRQUE, Bonham said what he is most looking forward to is hugging his two children, who he has not seen in person since the incident occurred.
Officials report that the cause of the explosion is still under investigation.