Fire line redemption: California inmates train to fight wildfire
The fire camp program provides rehabilitation to inmates while benefiting California residents through firefighting and community improvement efforts
---
By Don Chaddock, FireRescue1 Contributor
Trudging through thick brush and powdery red dirt, inmates carried heavy packs and equipment under the baking sun. This was one of four days of special training for inmate firefighters in the Sierra foothills of northern California.
The men seek to better themselves and protect Californians through a decades-old fire camp program, administered by CAL FIRE and CDCR.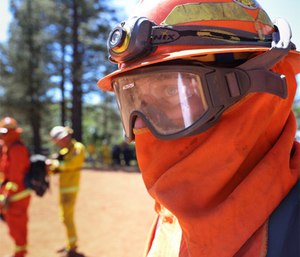 The Ishi Fire Crew Exercise, an annual endeavor to get inmate firefighters prepped for the rapidly approaching fire season, drew inmate fire crews from across the region.
The fire camp program provides rehabilitation to inmates while benefiting California residents through firefighting and community improvement efforts.
"What I've seen is not only has it rehabilitated and changed the lives of our inmates, but also those of our officers," said Capt. Ben Ingwerson, who oversees the 18-camp program from California Correctional Center (CCC).
Turning around lives
While inmates performed the tool out exercise for their CAL FIRE instructors, camp staff members stood in the shade and swapped success stories of former inmates.
Ishi Camp Commander Lt. Matt Gregor said inmates have written emails or called him to let him know they have turned their lives around. "I don't know how they find my email or my office phone, but they call just to thank us," he said.
Capt. Ingwerson agreed. "I can't tell you the feeling you get when you get a call from a former inmate to tell you he's doing OK, has a job, a house and a wife," he said. "It's no longer about warehousing inmates. Today's inmate is tomorrow's neighbor."
Ingwerson said for some inmates with little or no education, no positive role models and no experience following rules, this is often their first time in a job-like setting.
"We provide structure," Capt. Ingwerson said. "We have guys who are learning trades and skills. Some inmates bring nothing to the table. They get some direction and purpose in their lives. They learn what it means to get up, get ready and go to work. They often haven't had that before."
CCC acting Warden Suzanne Peery watched the inmates as they went through the training exercises, often offering words of encouragement as they passed.
"We are one of the best rehabilitative programs in the whole state," she said. "It's not just coming to a fire camp, it's learning responsibility, teamwork and the pride they get from working with a crew. We see the positive benefits every day. It makes the staff proud of what they're doing."
Brian Duffy, a former warden of two institutions, is now the associate director for the fire camp program. He started his career in 1993 as a correctional officer in San Quentin. "Back when I started, you didn't hear much about rehabilitation or programming," he said. "The fire camp program is one of the best services we provide."
Benefits to the state
Steve Meyer, wearing a cowboy hat and sporting some gray in his beard, is very familiar with the area around Paynes Creek. Since he was a little boy, he's crawled on the rocks, run through the meadows and enjoyed life up the road from the Ishi Fire Camp.
On this day, Meyer watches as crews of inmates cut fire lines in thick brush. At one time, much of this land belonged to his grandfather. Today the land is managed by the non-profit Paynes Creek Sportsmen Club, of which he is a member and one of the property owners.
"We're trying to be good stewards of the property," he said. "We have a board of directors and about five or six years ago they asked me to find out about managing the habitat."
He spoke to the nearby fire camp and they told him they had recently lost their training grounds. They struck a deal, he said, and now the inmates are able to train on the property.
"It's beneficial for us as property owners to get rid of this invasive white thorn," he said. "It's a great place for the inmates to train and learn skills to fight fires."
Meyer said two large fires have burned through the property in his lifetime. He said with the help of the inmates cutting fire lines, the chances of a devastating fire are reduced.
According to Ishi camp officials, "In 2016, inmates logged 70,359 grade-work hours of which 17,816 were spent on local projects."
Some of those projects included snow removal, flood prevention, tree removal, weed abatement, clearing ditches, brushing roads and trails, fuel breaks, fence installation and construction projects.
How they train
Tool out: Crews prepare themselves to exit the emergency crew transport ready for fire suppression activities in full personal protective equipment.
10s and 18s: Crews are quizzed on their knowledge of look-outs, communications, escape routes and safety zones, while proctors inspect their gear and tools.
Simulated air-tanker drop: Crews experience a simulated air tanker drop demonstrating proper safety procedures.
Fire shelter deployment: Crews experience a training simulation on proper fire shelter deployment and safety procedures in the event of a burn-over.
Timed hike (70 minutes): Crews traverse 3.8 miles of various terrains with steep inclines and moderate declines in full gear and PPE.
Time fire line construction (60 minutes, 300 feet long, 6-foot cut, 4-foot scrape): Crews construct a fire contingency line in thick brush six- to eight-feet tall. Brush consists of pin oak, white thorn and manzanita.
Crews are evaluated and graded. They are required to pass every aspect of their training in order to be able to respond to fire suppression and emergency incidents for that year's fire season, according to camp literature on the exercise.
Learn more about CAL FIRE, http://calfire.ca.gov/about/about.
Learn more about the camp program, http://www.cdcr.ca.gov/Conservation_Camps/index.html.
Don Chaddock is editor of Inside CDCR, the California Department of Corrections and Rehabilitation Newsletter. Reprinted with permission from Inside CDCR.