Italian firefighters rescue puppies after avalanche
Firefighters broke down a wall and found the puppies in the boiler room of the hotel
---
dpa
FARINDOLA, Italy — The death toll at an Italian hotel buried by an avalanche last week has risen to seven, while 22 guests and staff members remain missing, officials said Monday.
Rescuers also located the body of a woman and are working to extract it, the Civil Protection Department said.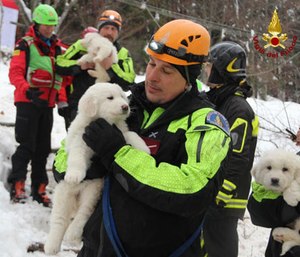 Eleven people have been rescued since the January 18 avalanche, including four children.
Also on Monday, firefighters broke down a wall and pulled three puppies from the rubble of the four-star mountain hotel. They were found in good condition in the boiler room.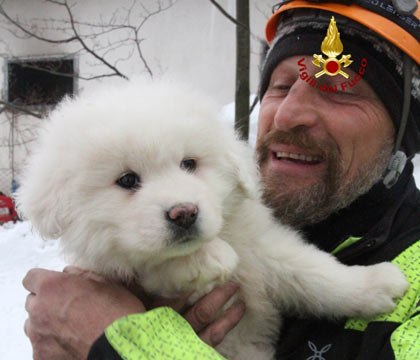 Born December 4, they are the offspring of hotel mascots Nuvola (Cloud) and Lupo (Wolf), both of whom fled to safety into the valley below the hotel on the day the avalanche struck.
The 120,000-ton mass of snow barreled down a mountain, tore through a forest, and engulfed the hotel at a speed of about 100 kilometres an hour on the same day a series of powerful magnitude-5 earthquakes shook central Italy.
Italian prosecutors said Monday they are considering multiple manslaughter and negligent disaster charges, stemming not only from events on the day of the disaster but also from the decision to build the hotel at altitude of 1,200 metres in the picturesque Apennine mountains.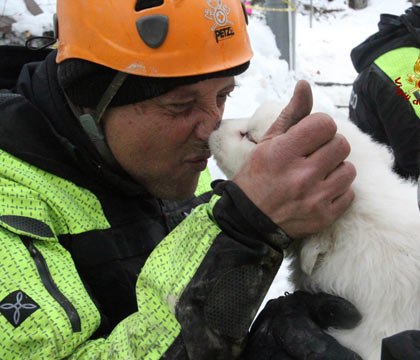 Questions were raised as to whether the hotel should have been evacuated given there was a level-four avalanche alert that day.
There were also questions as to why officials failed to send one of two available turbine snow ploughs to Rigopiano after staff there requested one, hours before the avalanche struck around 4:30 pm (1530 GMT) on Wednesday.
A German expert told dpa earlier in the day that what happened in Rigopiano was likely due to "a chain of unfortunate circumstances" due to extreme weather conditions that were unusual for the area.
The Rigopiano avalanche falls under the category of "exceptional and unforeseeable events," according to Thomas Bucher of the German Alpine Club (DAV).