Recruits, instructors interviewed in investigation into death of NY FF during training
Investigators also questioned the manufacturer of the SCBA Watertown Firefighter Peyton Morse was wearing when he became unresponsive
---
Craig Fox
Watertown Daily Times, N.Y.
WATERTOWN, N.Y. — National investigators were in Watertown for three days talking to city fire department officials and family members as part of their investigations into what caused the death of city firefighter Peyton L.S. Morse, who suffered a medical emergency while he was involved in a training exercise at the state fire academy in early March.
Investigators from the National Institute for Occupational Safety and Health, or NIOSH, spent some of Friday, Saturday and part of Monday before leaving and heading to Rochester to begin the next phase of their investigation into what happened at the New York State Academy of Fire Science, city Fire Chief Matthew Timerman said Monday afternoon.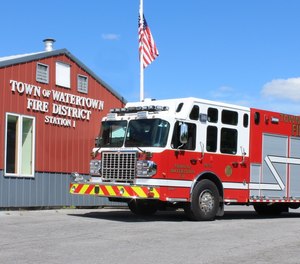 "They just left," he said, adding that the investigators spent between 18 and 20 hours interviewing people in Watertown before leaving to talk to recruits and instructors who were at the academy on the day of the incident and fire chiefs in Rochester.
On March 3, the young firefighter was found unresponsive while wearing a breathing apparatus during a training exercise at the academy in Montour Falls, near Watkins Glen, on March 3. Mr. Morse, 21, died nine days later.
While in Watertown, NIOSH investigators questioned the manufacturer of the self-contained breathing apparatus during a conference call about the piece of equipment. They also took the breathing apparatus with them so it can be evaluated in NIOSH's lab in Pittsburgh, the chief said.
They talked to about 10 members of the fire department "who had pertinent information about the investigation," Mr. Morse's family members and fiancée, and met with City Manager Kenneth A. Mix and human resources director Matthew Roy.
Chief Timerman said he doesn't know how long the NIOSH inquiry will take. NIOSH is a research agency that focuses on studying ways to create safe and healthy workplaces.
It's going on at the same time that the Public Employee Safety and Health Bureau, or PESH, is investigating what happened during the incident at the fire academy.
Both agencies were at the fire academy Thursday of last week, but they are conducting separate investigations.
Two weeks ago, it was determined that PESH was going to conduct the investigation into what happened at the academy following discussions with the Occupational Safety and Health Administration, or OSHA, about PESH's responsibility to conduct the inquiry.
The state Labor Department press office has declined to comment because it's "an ongoing investigation."
State police in Horseheads, near Elmira in the Southern Tier, are investigating the circumstances of the firefighter's death. Last week, investigator Jason Wood declined to comment, citing it's a "pending investigation on our part."
Last week, Bradford County Coroner Thomas M. Carman said it might be this week when the autopsy report would be completed as he's still waiting for some test results to come back. The test results will be turned over to the state police for its investigation.
The firefighter was inside a 20-foot-long tunnel made of plywood while wearing an air pack and a mask covered with tape when the incident occurred.
Mr. Morse was going through the tunnel that simulates what a firefighter would experience during a fire. Alarms on the self-contained breathing apparatus went off before the firefighter was found not breathing. He was immediately taken to a local hospital and then airlifted to a hospital in Sayre, Pa., where he later died.
Chief Timerman has called for a thorough investigation into the circumstances of the young firefighter's death, stressing he's insisting that it should never happen again. Mr. Morse's family members have blamed the academy for his death.
___
(c)2021 Watertown Daily Times (Watertown, N.Y.)
McClatchy-Tribune News Service