Family of intubated dead man sues for more than $15M
A family member of Bradley Ginn Sr. says she has suffered physical and mental pain caused by the "intentional and negligent care of a body"
---
By Denver Pratt
The Bellingham Herald
Family members of the deceased man Bellingham Fire Department employees practiced performing endotracheal intubations on in late July have filed three separate claims for damages seeking more than $15.5 million from the city of Bellingham, according to records from the Bellingham City Attorney's office.
On July 31, 11 fire department employees, including two office workers, admitted to performing "tube checks" on the body of Bradley Ginn Sr. while he was on the floor of Station 1. His body was waiting to be picked up to be taken to a funeral home.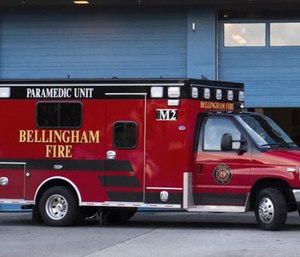 A report by Seattle attorney Sarah I. Hale revealed that "tube checks" were an accepted practice paramedics used to meet certification requirements. After patients died, paramedics took out breathing tubes that were placed as life-saving measures and then quickly re-inserting them to help paramedics practice the procedure.
In a claim for damages filed Oct. 4, Jai Ginn, a family member of Bradley Ginn Sr., says she has suffered physical and mental pain, disability, and "stress and anguish resulting in economic and non-economic damages" caused by the "intentional and negligent care of a body and abuse by city of Bellingham employees, including but not limited to the Bellingham Fire Department," according to the records. She also made claims for the unauthorized invasion and desecration of a dead body without permission and possible wrongful death. She is seeking $15 million.
Bradley Ginn Jr., Bradley Ginn Sr.'s son, filed a claim Oct. 16 seeking $200,000. In the claim, Ginn Jr.'s lawyer calls the conduct of fire department employees "reprehensible" and says the intubations took place during a time when family members were trying to locate Ginn Sr.'s body. They also say that Ginn Sr. had a do-not-resuscitate directive, which prohibited the use of invasive procedures such as intubation, the records state.
Ginn Jr. is seeking monetary compensation for the emotional distress caused by the department's actions, as well as asking the city to implement a written policy that prohibits similar conduct in the future.
In early October, Bellingham Fire Chief Bill Newbold said the tube checking practice was no longer allowed. Supervising physician Emily Junck issued a directive to all medical personnel on Oct. 3 stating that "Patient care and procedures should only be provided with the goal of patient resuscitation. After a patient has been pronounced as deceased, no further procedures should be provided without consent of next of kin or (durable power of attorney)," according to an email sent to The Herald Wednesday from city communications director Vanessa Blackburn.
Blackburn also said Junck, EMS Division Chief Scott Rykman and Assistant Chief Jay Comfort are also working to complete a policy that outlines what happens when a patient dies in an ambulance.
The third claim, filed on Oct. 9, on behalf of Aurieona Ginn, Ginn Sr.'s daughter, seeks $350,000. Her lawyer says the fire department did not seek and did not receive permission to perform intubations on her father, the records state.
"The disregard for the dignity of her late father caused Ms. Ginn to suffer emotional distress," according to the claim.
The city has 60 days to reach a settlement claim with her, the records state.
Bellingham Mayor Kelli Linville declined to comment Wednesday on the pending litigation.
Newbold could not be reached for comment Wednesday.
The Bellingham Fire Department disclosed that a ranking officer resigned and another retired in the wake of "serious misconduct". The July incident involved a deceased patient's body being used for an unauthorized training exercise.
Disciplinary actions
Twelve Bellingham Fire Department employees were disciplined for their actions taken on July 31 on Ginn Sr.'s body.
Firefighter/paramedic Derik Scott, firefighter/EMT Hunter Elliot, firefighter/paramedic Matt Cook, firefighter/paramedic Micah Quintrall, accounting assistant Kristia Peschka and office assistant Olivia Sund all received written notices in their personnel files on Sept. 17 from Chief Newbold admonishing their actions, according to public records requested by The Bellingham Herald. The letters addressed to Sund and Peschka noted that neither were certified paramedics and that they had not received the formalized training needed to safely perform intubations, according to the records.
Firefighter/paramedic Aaron Wolven and firefighter/paramedic Steven Larsen each received 24 hours suspension without pay, as well as a letter in their personnel files on Sept. 19 that will stay for up to a year. If they don't receive any further disciplinary actions within that year, they can request to have the letter removed, the records state. Their letters also stated that their "actions directly contributed to constructing the environment in which others intubated, in succession, on the deceased patient."
EMS Captain and paramedic Jeff Brubaker received 40 hours of suspension without pay and a letter in his personnel file. The letter, dated Sept. 19, also said that Brubaker's actions while in a supervisory position directly contributed to creating the environment that allowed the intubations on Ginn Sr., according to the records.
Tim Vandermey, fire captain at Station 1 — where the intubation took place, also received a letter on Sept. 17 that will remain part of his personnel file for a year,because he "knew of and witnessed some of the events that morning and failed to take appropriate action" in reporting them, the records state.
EMS Captain Scott Farlow sent a letter Sept. 16 to Newbold announcing his retirement. He had been with the department for nearly 29 years. In his retirement letter, Farlow said he had been in discussions with family to determine when his "time was right" but that the events from late July accelerated the conversation and made his decision to retire, according to the records.
Farlow also said that he intended to debate the level of discipline Newbold was considering, but later stated he didn't want to debate it further.
"I don't dispute that discipline was warranted," Farlow wrote. "But when there are two EMS Captains present, both of equal rank, supervisory capacity, and ability to influence events, and one is given a week without pay, and the other is to be demoted; especially when that EMS Captain was present for a short period of the exercise, and the one receiving only a week off was present the entire event, it is very difficult to rationalize and accept."
Farlow's last day of work was Sept. 18.
Mannix McDonnell
Medical Services Officer/Division Chief Mannix McDonnell also resigned over the events, after having been with the department 23 years. On Sept. 4, Newbold sent McDonnell a letter saying that his recommendation for discipline was termination and that McDonnell had the right to have a meeting on Sept. 11 to provide any additional information before a final decision was made.
On Sept. 20, McDonnell submitted his letter of resignation, stating that he had "some personal reasons but am unable to elaborate on those at this time," according to the records. Four days later, McDonnell submitted a letter formally rescinding his letter of resignation.
"The letter was submitted under duress, after the hardship and stress that was caused to me by being placed on administrative leave for more than six weeks, and after I was then pressured to make an immediate decision about my future," McDonnell wrote.
He said he wished to remain an employee of the Bellingham Fire Department and assumed that he would remain on paid administrative leave while the city continued to investigate the July incident, the records state.
That same day, on Sept. 24, Newbold sent a letter to McDonnell saying his request to rescind his resignation was denied. Newbold said that during the Sept. 11 meeting, McDonnell accepted responsibility for his actions, expressed remorse and requested Newbold reconsider his decision to fire him, according to the records.
"You resigned before I communicated my final decision regarding discipline. In fact, the meeting on Sept. 20, 2018 was scheduled at your request so that you could resign before I communicated my final decision. Because you resigned, I did not communicate my final decision to terminate your employment," Newbold wrote. "Your request to rescind your resignation in lieu of termination is denied."
McDonnell's paid administrative leave ended on Sept. 20, the letter states.
The state Department of Health is also investigating nine members of the department for their roles in the July 31 incident. Although 11 employees admitted to intubating Ginn Sr., only nine were credentialed health care providers. A state health department spokesperson said the investigation could take up to 170 days.
Copyright 2018 The Bellingham Herald
McClatchy-Tribune News Service