Former Iowa fire chief's discrimination case headed to jury trial
Lynn Washburn-Livingston, 62, claims Davenport City Administrator Corri Spiegel of firing her in 2017 based on her age and gender
---
Tom Barton
Moline Dispatch and Rock Island Argus, Ill.
DAVENPORT, Iowa — A former Davenport fire chief's discrimination lawsuit against the city moved forward to a jury trial set for June 21 after an Iowa District Court judge denied in part a motion by the city seeking to dismiss the claims.
Former fire chief Lynn Washburn-Livingston received a partial win in last week's ruling.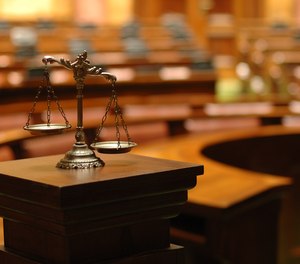 Washburn-Livingston, 62, has accused Davenport City Administrator Corri Spiegel of firing her in 2017 based on her age and gender, alleging she was forced out of the job for complaining about the way she was treated.
Washburn-Livingston also accused Spiegel of creating a hostile work environment, which led to her being sexually harassed in the form of receiving an unmarked package with a bag of penis-shaped candies. She says that package was accompanied with a note that read: "Eat a bag of d—."
Meanwhile, the city has alleged Washburn-Livingston spent too much time away from work on excessive travel and professional development, overspent taxpayer dollars on lavish office furnishings, was insubordinate and poorly managed the relationship with the local firefighters union.
The Dec. 22 ruling by Scott County District Court Judge John Telleen granted the city's motion dismissing some of Washburn-Livingston's age and sex discrimination, invasion of privacy and employment retaliation claims while preserving others and allowing her claim of wrongful termination to proceed.
"The ruling is a positive ruling for the chief," said West Des Moines attorney Michael Carroll, who is representing Washburn-Livingstong. "While it dismisses part of the complaint, it left what I would call the core questions intact to be tried by a jury — whether there was discrimination in the chief's employment termination based on her age and her sex. ... It leaves fewer questions for the jury to decide, and I think those are the most important questions. The bottom line is ... she gets her day in court."
In her lawsuit, Washburn-Livingston alleges Spiegel frequently harassed and bullied her by ignoring her, assigning others to her job duties and going past her to work with subordinates.
Calling the conduct "fairly minor," Telleen ruled Washburn-Livingston "did not face a pattern of being verbally belittled or berated," and had not produced evidence "of any harassing behavior" because of her age or sex, "and has not shown a pattern of her projects being reassigned."
As for the gummy candies and accompanying note, Washburn-Livingston failed to present any evidence linking the package to a city employee, according to the court ruling, which dismissed her claims for emotional distress and a hostile work environment.
A police investigation into the origins of the this package were "stonewalled" by the Canadian company that shipped the candies "refusing to honor a U.S. subpoena," Telleen wrote. Additionally, a forensic audit of city computers determined no city employee had used their work computer to purchase the candies.
However, Telleen ruled Washburn-Livingston presented sufficient evidence "to support a jury question" on whether her age and sex were motivating factors in terminating her employment.
Washburn-Livingston, according to court filings, pointed to other instances of older city employees being demoted and terminated by Spiegel, including former city public works director Michael Clarke, former city communications director Jennifer Levi and former human resources director Dawn Sherman.
While examples cited by Washburn-Livingston also included younger employees, "the vast majority of the employees noted ... are older individuals," and a "noticeable majority of her list are female," according to the court ruling.
"This pattern creates sufficient evidence to create a jury questions on whether Plaintiff's age was a motivating factor" in her termination, Telleen wrote. "There are also genuine issues of fact on whether Plaintiff was performing her work satisfactorily."
Telleen wrote Washburn-Livingston raised valid questions for a jury on the veracity of several of the reasons the city has cited for terminating her employment, including whether it may have been in retaliation for filing a complaint with the city's HR department about Spiegel's "bullying" and requesting a formal investigation into being sent the phallic gummy candies and a derogatory note.
Washburn-Livingston also maintains that she has been blacklisted and cannot get another job elsewhere, alleging she did not get an offer because Spiegel "disclosed personal information in violation of her right to privacy."
Telleen, though, cited a "total lack of evidence supporting any inference of intent to prevent (Washburn-Livingston) from obtaining further employment," and that the city's release and publication of the reasons for her termination was a matter of public record under Iowa law.
However, the court denied the city's motions to dismiss Washington-Livingston's claim that the information released the city unfairly impugned her professional judgment, stating it was for a jury to decide whether the city's stated reasons for her termination were false or overblown.
"We are evaluating the court's ruling and looking at the next steps for the litigation," said Davenport attorney Ian Russell of the law firm Lane & Waterman, who was hired by the city to manage the case. "We believe there are still other things to explore in the defense of this case."
He would not elaborate.
Spiegel did not return a message seeking comment Tuesday.
Washburn-Livingston is seeking restitution in the form of back pay, future pay, lost benefits and other damages.
___
(c)2020 Moline Dispatch and Rock Island Argus, Ill.
McClatchy-Tribune News Service