Breaking the 'brass ceiling': Women face unique obstacles in the fire service
Study examines why there are so few women in positions of leadership in the fire service, as compared to women in law enforcement and the military
---
By Janet Contursi, J.D., Ph.D.
Several years ago, while walking through the children's book section of my local library, I stumbled upon the "What do I want to be when I grow up?" picture books. As I looked through the drawings, I noticed that there were plenty of girls in what might traditionally be considered "boy jobs," such as police officers, soldiers and sailors, doctors and construction workers. But the "fireman" book had only boys – NO girls! There was gender-neutral language in all the other books, but not in the book about firemen. That just didn't seem right to me.
Reflections on my own fire service and military careers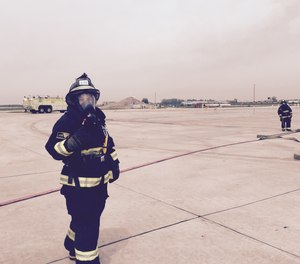 Upon reflection, it occurred to me that three decades ago, when I first entered the U.S. Navy, women were not usually in positions of command or leadership. I thought about it further and noticed the same was true for women in law enforcement.
As a career firefighter/paramedic who came on the job 20 years ago, I realized that women were considered anomalies or outcasts significantly more in the fire service than in the military or law enforcement, resulting in not only fewer members but also significantly fewer women supervisors, officers and fire chiefs.
Today, women seem to have broken through that "brass ceiling" as high-ranking officials in the military and law enforcement of major metropolitan cities and at the state and federal levels. While there are some notable exceptions – like the three (soon to be four) women currently serving as fire chiefs in Baltimore/Washington-area departments, including Fire Chief Joanne Rund, a FireRescue1.com/Fire Chief editorial board member – women in the fire service seem to not have gotten off the starting block in many parts of the country.
When looking a little deeper, it became apparent that women in the fire service had not yet overcome many of the challenges and barriers faced by their counterparts in law enforcement and the military:
Difficult recruitment and retention
Physical job demands
Home/work life balance
Women leading men
Women were just not as accepted into the ranks or recognized as leaders as easily in fire service or emergency services as in other professions traditionally considered to be better suited to men.
Literature review: A lack of women leaders
I began by reading every piece of literature I could find about women in leadership in the military, law enforcement and the fire service. I then considered statistics published by the U.S. Department of Labor as to just how many women are in each field and, specifically, in positions of command or leadership.
The first stark discovery that emerged was that there was almost nothing written about or by women in leadership in the fire service. I found plenty of autobiographies, articles, historical accounts and stories about female generals/admirals and police chiefs, but no such comparable work about female fire chiefs or company officers. There was barely any information about female firefighters at the entry level! So I decided to take a deeper look at women in leadership in the fire service as compared to the military and law enforcement.
Analysis procedures: Interviewing women in power
Using interpretive phenomenological analysis, I investigated the barriers, and strategies used to overcome them, among 15 high-ranking women leaders in the fire service, military and law enforcement. I contacted and interviewed five women in high-ranking positions in each of the three fields. This included the ranks of captain, commander, chief, superintendent or commissioner, from municipal, local, county, state or federal fire and police departments. From the military, it included the ranks of colonel or captain, and flag rank – admiral or general from any of the five branches of Armed Services. For all of the participants, the length of service was a minimum of 15 years.
I wanted to discuss with them and compare their lived experiences as they progressed from recruit or entry-level position to a high career service rank.
All interviews were conducted either in-person or via teleconference, recorded, transcribed and qualitatively analyzed.
Questions focused on how they got involved in the fire service, significant gender-related experiences they faced during their careers, the mentorship or support provided to them, organizational policies that impacted their careers and similar discussion points.
Throughout the interview, I allowed the interviewee to freely answer the questions as well as share whatever they thought would be important or contribute to the study. The interview usually ended with asking what advice or recommendations they have for women aspiring to move into leadership or command positions in their field.
analysis results: 3 key barriers to women in the fire service
The interview process afforded me the pleasure and privilege of meeting some of the most interesting, brilliant, compassionate and "engaged-in-life" people. I immediately recognized that those personal traits were consistent for all 15 women, without exception.
Each one of them were personable, loved what they were doing, were committed to their organization's overall mission, willing to help their co-workers succeed and ambitious. The differences were in the environment in which they were operating and, most prominently, in the attitudes of the leaders in their respective organizations. Those attitudes dictated policies, procedures and how women were viewed, accepted and supported – or not. Each of the women was all intelligent, resilient and possessed a great sense of humor.
Overall, the results of the interviews revealed that these women were highly educated, possessed significant leadership skills, and had great commitment to overcoming whatever challenge was presented to them along the way.
Each of them had found ways to navigate, and prevail, in the choppy waters of their traditionally male-dominated organizations. What stood out most for me was their ability to create strong working relationships, network and find mentors – both male and female – who would eventually help propel them to the next level.
Another prominent theme was that they all realized very early in their careers that they would need to be confident and technically competent, as well as diversified in experience, to be competitive with their male counterparts.
When looking at the three cultures and how they were similar and different, I noticed there seemed to be three significant barriers facing women in the fire service that were not as prominent with the military or law enforcement:
Organizational culture: The most obvious was an organizational culture that protects and perpetuates an exclusive work environment that often does not include women and favors men.
Promotional systems: The promotional systems in the military and law enforcement are more merit based and have more explicit advancement benchmarks that are not gender based.
Absence of equal work environment: The fire service lacks institutional policies at the organizational level that would promote and foster a fair and equal opportunity work environment. Gender equality was just not considered a primary concern in recruitment, retention, promotion, equipment, clothing or protection of women.
Discussion points: Understanding gender-related issues in the fire service
Organizations – mostly police and military – that have taken the initiative to put such guidelines in place have already contributed greatly to the progress of women in those domains. They are not yet the standards by which the fire service operates, with a few noteworthy exceptions.
Leaders must lead by example. Each member of the fire service is a servant of the community and has an obligation to represent themselves and their organization with pride, integrity and a commitment to excellence. Doing so will exemplify the high standards and traditions of service to the community.
Its more than just being technically and operationally keen. It is about perfecting high standards of professionalism and leadership with a greater focus on mentoring the next generation of leaders, both men and women. Personnel who are properly trained, influenced, inspired and developed are an organization's richest resource and greatest asset. By excluding women from equal opportunities, the fire service is falling behind in its ability to recruit the best and brightest individuals of both genders into its ranks.
One small study does not a solution make. The first step in correcting this disparity between the fire service and the military services and law enforcement would be to identify and uncover the gender biases that seem to be common in the fire service. That gender bias does not appear to be geographically specific or more prevalent in certain department types or sizes.
The overall goal is for fire service organizations to create a workforce that's inclusive of women. A culture that does not permit organizational discrimination or harassment based on gender. A culture that includes performance-based promotions where only the most qualified candidates, male or female, are likely to rise to lead fire departments.
Something that was very present in my military experience – and lacking in my fire service experience – is the absolute expectation that leaders inspire, encourage and support their subordinates just as much as they supervise and manage them. Incidents involving discrimination, harassment or inappropriate sexual behaviors were not tolerated at any level in the military. This zero-tolerance policy was not always the norm, but since instituted, conditions and morale in the military have improved. And it is still a work in progress.
My research indicated that there is a difference in how leaders are selected, mentored, developed and promoted in the fire service as compared to the military and law enforcement. This may be a factor in the organizational attitudes and perspectives of fire service organizations and their generalized difficulty in accepting women in the fire service.
The recurring theme throughout the project showed that the contextual culture of an organization dictates is policies and procedures, which, in turn, fosters an environment of inclusion or the perpetuation of exclusivity. Something as subtle as gender-neutral language is one of the mechanisms that could create a more inclusive culture.
My biggest take-away from my research was that when strong leadership principles were in place at senior leadership levels, it was clear that new leaders were chosen based on merit, competency and demonstrated sustained excellence, not gender, race or favoritism.
Fire service organizations must not only look good in the public eye, they must also have the confidence and approval of the community they serve. To do that, successful fire service organizations operate with integrity, fairness and a commitment to excellence.
The leadership and composition of an organization should reflect the community it serves. Organizations that promote their most qualified candidates to the highest levels of leadership based on performance rather than popularity tend to boast true leaders, not just managers or supervisors.
Personnel issues (whether overt or subtle), such as discrimination, harassment and unfairness, tend to undermine the effectiveness and positive image of an organization.
These findings support the creation of leadership opportunities that are equally available to the most qualified candidates based on their individual demonstration of sustained exemplary performance, integrity, fairness and ability to inspire others.
Recommendations for improving opportunities for women
Based on my research, the following recommendations would greatly enhance the organizational administration of the fire service as a profession:
Place greater emphasis on the fair and equal treatment of women in the workplace, guaranteed through organizational policies and legislation, if necessary. Infractions to fairness or equal employment or promotional opportunities need to be reported, tracked and addressed.
Establish occupational standards for equipment, clothing and facilities that are gender appropriate. Equipment that fits properly is necessary for the safety and protection of the wearer. Separate facilities for sleeping, showering and personal care show respect for all workers who use stations and dormitories while accomplishing their work.
Leadership and personal professional development amongst fire chiefs and potential fire chiefs needs to be a basic prerequisite for promotion into high-level positions. Leaders must demonstrate sustained superior performance and commitment to the development of their subordinates.
Promotional processes must be standardized and transparent with specific, measurable and consistent criteria.
All personnel, regardless of gender, rank or position, must adhere to the organization's professional standards.
All officers must be unyielding in their enforcement of those same organizational standards without prejudice.
About the Author
Dr. Janet Contursi currently works in Special Operations for the Chicago Fire Department (23 years) and recently retired from the U. S. Navy after 30 years as a Chief Hospital Corpsman. Dr. Contursi completed her doctoral research in organizational leadership at the Chicago School for Professional Psychology. She also holds a law degree from John Marshall Law School (Chicago) and masters' degrees from Lewis University (Romeoville, Illinois) in public safety administration and University of Nevada (Las Vegas) in crisis and emergency management.
Reference
Contursi, J. "Women in Leadership in the Fire Service, Law Enforcement and the Military – A Comparative Study." 2018.