Firefighters in Fire Trucks Getting Ice Cream – Dave Emanuel
Emanuel talks fire department accreditation, data collection and bullying in the fire service
---
By Jesse Quinalty
As Jerry Seinfeld is premiering the newest season of the acclaimed "Comedians in Cars getting Coffee," he appeared in a promotional video, listing many of the other shows that have followed its style. He did not mention "Firefighters in Fire Trucks Getting Ice Cream," but he did note, "If you are going to knock us off, get it right!"
Although we will never try to compare ourselves with Seinfeld's genius, we are taking his advice to "get it right" on Firefighters in Fire Trucks getting Ice Cream, especially if "getting it right" means that the old fire engines break down during filming and the guests on the show are entertaining.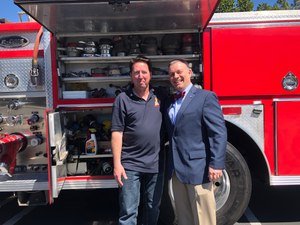 In this month's episode, I am joined by my friend Dave Emanuel, fire chief of the Durham (New Hampshire) Fire Department. He is definitely the closest thing to having a comedian on our show. He is quick-witted and always fun to visit with. His love for life and the fire service is contagious.
This episode was recorded while Dave was in California at a conference put on by the Center for Public Safety Excellence (CPSE). As to be expected, Dave had packed his suitcase full of bow ties and a harmonica (referred to as "contraband" in the show).
At the end of the week at the CPSE conference, I picked up Dave in a 1988 E-One Hurricane that was formerly a front-line engine used by the Montebello (California) Fire Department. The engine was actually burned over during the wildland fires in Malibu in 1993. This rig is now owned by a former Montebello firefighter who has restored it along with the department's 1955 Crown Firecoach (coming in a future episode).
In Part 1, Dave and I discuss fire department credentialing and data collection. Part 2 tackles the issue of bullying in the fire service.
Watch the full conversations below.
About the author
Jesse Quinalty is a master instructor and the owner of Red Helmet Training, which houses four classrooms and a command training center in Southern California. He specializes in company officer training as well as table-top and digital fire simulations. He is a captain with the San Bernardino County (California) Fire Department, working in Division 6, and was the operations and training captain at his previous department.