FireRescue1 launches Side Alpha podcast
Hosted by FireRescue1 Executive Editor Marc Bashoor, Side Alpha puts fire service leaders and emerging leaders in front of the hot topics facing firefighters today
---
FRISCO, Texas — FireRescue1.com has launched the Side Alpha podcast, hosted by FireRescue1/Fire Chief Executive Editor and Highlands County (Florida) Fire Chief Marc Bashoor.
The podcast features fire service leaders and emerging leaders, as well as industry icons and visionaries, talking about the state of the fire service and hot topics facing firefighters of all levels. Bashoor and guests tackle topics ranging from fire service culture and department vision to tactical-level training and operations, and even major event responses.
The first three podcasts are now live on FireRescue1 and available for download on iTunes, SoundCloud, Stitcher and Spotify.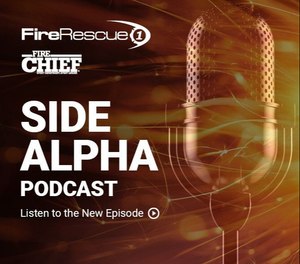 Future Side Alpha podcasts will feature Joanne Rund, fire chief of the Baltimore County Fire Department; Bill Webb, executive director of the Congressional Fire Services Institute; Brian Schaeffer, fire chief of the Spokane (Washington) Fire Department; Dr. Denis Onieal, deputy U.S. fire administrator; and many other fire service voices focused on enhancing the industry and affecting meaningful change.
"Our Side Alpha podcast provides the avenue for us to dig deeper into the topics you need to hear about and the people you need to hear from," Chief Bashoor explained. "I hope that through in-depth interviews and probing of the issues in front of us that we will challenge our listeners to think past the 'everyday' solutions to the issues we face daily. If it doesn't challenge you, it doesn't change you!"
Listen to FireRescue1's SideAlpha podcast at firerescue1.com/columnists/side-alpha.