How does your department define a successful team member?
Identifying a handful of key traits can be a game-changer in fostering a healthy organizational culture
---
We are in the people business.
It's easy in the fire service to be blinded by the shiny toys, the new leather helmet or the latest-and-greatest tactical training. All the fun, cool, sexy fire service gadgets are great, but your organization doesn't have a community to serve without people, and we don't have firefighters to serve your community without people.
For every organization, our members should be our priority – who we hire, who we accept into our volunteer ranks, and who we promote. These decisions deserve not only significant thought but also a process that creates a team of people who fit your culture and your organization's needs.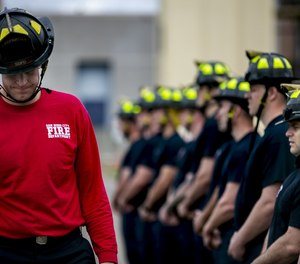 Find the right members
The process of building your ideal membership begins with a few simple questions:
How do you define what it means to be successful in your organization?
What are the personality traits of successful members of your organization?
Do you insist that new members have these personality traits?
Volunteers might scoff at these questions because, let's face it, there is a huge decline in the number of volunteer firefighters across America, and many organizations would be happy to accept any new member. This begs another question: Is ANY volunteer a value? Put another way, can a volunteer who's a bad fit negatively impact your organization? What about a bad fit in the career fire service?
If the thought of identifying personality traits sounds daunting, or even not worth the trouble, I challenge you to ask yourself some questions:
Does your organization have a revolving door of new members?
Does low morale permeate the ranks?
Does your organization struggle with attracting new members?
Does your culture change by shift or who's on scene?
Do your members fade in and out of participation, seemingly for no reason?
If you answer yes to any of these questions, I would suggest that your organization doesn't have a clearly defined culture, and perhaps members are unsure about the mission and values. Further, your organization has likely become a melting pot of distracting – and perhaps problematic – personality traits.
Fortunately, all is not lost. Some departments know what they are doing. In fact, I recently read a job posting from a fire department in Texas. The job description clearly defined the traits of successful candidates and identified exactly what they are looking for in new team members. This list of traits was not just your traditional hiring requirements. They clearly know what they want for their organization and from their new hires. And from what I know of this organization, they are not facing a culture problem nor a recruitment problem.
Healthy, growing organizations don't happen by accident! They are lead, planned and intentional in their hiring processes.
Putting words into action
In the book "Ideal Team Player," author Patrick Lencioni outlines a business that is struggling with organization continuity. Lencioni identifies three ideal traits for employees: hungry, humble and everyday street smarts. More importantly, he highlights the importance of identifying successful team traits and how to define them and highlight them, and how to design your interview questions to identify successful new hires.
Our organization utilized this book for an officer development program, and as we discussed each chapter, our officers were able to identify traits of both successful and unsuccessful current and past members. Through this process, we were able to reevaluate our interview questions, which we recognized failed to address the traits that we really wanted in new members. When we became intentional about our people and the traits of successful members, we experienced increased participation, increased longevity and better overall morale.
Note: A healthy organization consists of diverse individuals with different backgrounds, education and cultures. We are not hiring our clones; we are hiring individuals who fit the traits of our organization – humble, hungry, and everyday street smart, which are the foundation of our values: Service, Ownership, Unity and Progressive.
How to define your ideal team player
The traits you seek in a member should be specific to your organization's needs and values; thus you should not just arbitrarily adopt other organizations' traits or values.
Following is guidance to help define your ideal organizational traits:
Be inclusive: Think about both the successful and not-so-successful traits of all your leaders.
Make notes: Work with your officers and other members to brainstorm your team traits and culture. We used a white board and just kept listing the traits of successful members and to the contrary listed unsuccessful traits until we clearly identified success in our system.
Seek input: Once you highlight your ideal three to five traits, seek input from the rest of your organization. Do these traits truly represent successful individuals in our organization?
Get buy-in: It's always important to get buy-in from your members. Not everyone will buy in at the same level. This is OK as long as the common thread of the organization is consistent.
Align your traits with reality: Be intentional in matching your traits with all that you do. From budget discussion, to hiring to training. Match who you are with what you do.
Review your hiring process: What information are you collecting in the application process? Does it match the traits you desire? Review your interview questions, and create an interview grading system that matches your identified traits. Don't ask the same questions every department asks (e.g., Why do you want to be a firefighter? What does integrity mean to you? How do you define customer service?) As we all know, our applicants know how to answer the questions. Rewrite your question to seek information specific to your traits. Example: Give us an example of a time you received excellent customer service. Share an example of a time when you had to overcome adversity. How do you handle a personality conflict with a coworker? Then grade their responses in a consistent and fair process centered on your traits.
Create annual assessment: Assess all your members, grading them on your success traits. It is easy to protect your buddy – don't fall into that trap. Be honest in this process. One member who defies your organizational traits will impact your organization more significantly than you will ever imagine.
Walk the walk: Reinforce your traits and your organizational values every day in everything you do. This is not a one-and-done process. Be disciplined and focused. If you do this, you will see long-term impacts in your organization.
Get everyone involved: Remember, as a leader, you cannot do all this alone; it takes a team that recognizes the traits of success, plus a focus on implementing your organizational traits in all that you do.
Intention in leadership
A healthy organization does not happen by accident. It takes intentional focus to identify successful members, develop successful members and coach unsuccessful members. And when necessary, it also requires the dismissal of members who are not coachable and do not possess the traits necessary to be an ideal team player in your organization. This will ultimately serve the greater mission of fostering a team of successful members, top to bottom.