How to succeed during your first year as a fire chief
Fire-Rescue International conference speakers give strategies for success before taking on the role as a new chief
---
Chiefs John Binaski and Michael Despain will be speaking at International Association of Fire Chief's Fire-Rescue International conference on how to succeed during your first year as a fire chief on July 26. If you're interested in attending, you can register here.

You rose through the ranks and now you're ready to be sworn in as a fire chief. Congratulations! But what happens after the ceremony? When all of the back pats, flashing camera lights and smiles fade, your job as a new fire chief is not an easy task.
That's where Chiefs John Binaski and Michael Despain come into play.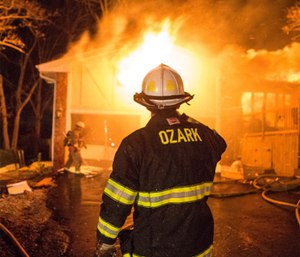 In their presentation at the International Association of Fire Chief's Fire-Rescue International conference in July, Chiefs Binaski and Despain will discuss strategies for success for fire chiefs. Their seminar, "Your first year as fire chief: Strategies for success," will be held July 26; the early registration discount is available until July 7.
Chief Binaski is a 25-year fire service veteran and is currently the chief for the City of Clovis (Calif.) Fire Department. He's also an instructor for the College of the Sequoias Fire Technology Program.
Chief Despain is a 32-year fire service veteran and is currently the chief for Lincoln (Neb.) Fire and Rescue. He previously served as deputy chief and interim fire chief in Fresno, Calif., and was also the fire chief for the City of Clovis, Calif.
Being a fire chief, according to Chiefs Binaski and Despain, requires a huge commitment to the job and the organization. Is this the right time in your career for you to take on this new challenge?
All eyes are on the chief
A fire chief's job requires more than 40 hours per week. It also requires time away from your family, especially in the evenings and sometimes on the weekends.
The expectation of a chief, according to Binaski, is that you will work equally hard, if not harder, than all of your subordinates.
"I try to arrive early and work late so I have the opportunity to see everyone and they know that I am committed to the role and to them," Binaski said. "The role of fire chief can be very rewarding, but many will take the job for reasons that don't survive the test of time."
Pride and prestige, Binaski says, will not provide the energy necessary to carry on day after day after the initial rush fades away.
"Passion would be a better quality to bring into the job," he said. "If you have a passion, then the extra work, effort and sacrifice will not be too high of a price. You will be energized by the challenges of the job rather than fatigued."
Some chiefs, he said, self-destruct when they get too tired or stressed to make good decisions or engage at the level that's needed.
"Make sure you have a true passion for the position in addition to the traditional qualifications," he said. "If you are not confident and committed to leaving the organization better than you found it, then consider waiting or looking for another organization."
However, no matter how good of a fire chief you are, Binaski recommended that all chiefs have some form of an exit strategy.
Plan for an exit
As chief, sometimes things go wrong that you have little or no control over.
"Your time will end someday and it may be way sooner than you expected. Go into the job planning for a potentially abrupt exit," Binaski said.
For some chiefs, they may take their final bow as a result of unhappy organization members. For others, their exit may take years or they might move on to a new organization on their own. And sometimes, it's time for retirement.
"Regardless of your best intentions, a large number of fire chiefs end up leaving sooner than they planned and for reasons they did not expect, so have an exit plan," Binaski said.
Chiefs Binaski and Despain will also discuss how to overcome challenges you encounter as chief in their presentation.
"Be prepared for people inside and outside the organization to test you in all sorts of areas," Binaski said. "These can include fire code enforcement, collective bargaining issues, policy, promotions and budget areas."
Making the right decisions
Firefighters are used to making decisions rapidly. Sometimes, in the nature of being a first responder, those decisions are made without all of the facts.
"As the fire chief, more often than not, you have the luxury of time, so do not rush to give your opinion or make a decision," Binaski said. "Find out the facts and then determine once you make your decision what the ramifications are."
Binaski suggested making a list of expectations on behavior – a rules of engagement-type document – before you start.
"The document can provide a list of what you expect from your subordinates and, more importantly, what they can expect from you," he said.
As an example, one expectation or "rule of engagement" that can work well is to describe how you will solve organizational problems as they arise.
"One strategy is to explain that when a situation arises where the appropriate policy is found to be wrong, absent, too vague or not in the best interest of the organization, that you explain up front that you will follow past practice this time around, but a more solid solution will be in place prior to the next similar situation arising," Binaski explained.
This strategy allows chiefs to make the necessary change but avoid the appearance that the rules of the game are being changed without proper input or review.
"Typically, after a year or so, the majority of the routine challenges will be solved," Binaski said. "However, these types of challenges never really go away. If you're fortunate, they just become slightly less frequent."
Making the right – and sometimes hard – decisions and learning from your mistakes comes with the territory of being chief.
For Chiefs Binaski and Despain, they learned important lessons during their first year as chief that are worth a second look.
Be your own person
According to Chief Binaski, it's important to not emulate the chief that came before you.
"You must be your own person and do what you believe is right," he said. "Take the good traits and skills they had and then work them into your own way of doing things."
And after being a chief in a number of organizations, Chief Despain said it's key to not get too comfortable based on common fire service patterns.
"I learned that there are fewer absolutes in the fire service than I originally relied on before coming to my new job," Despain said. "I was surprised to see a few things that didn't meet what I thought were universally common patterns."
Chief Despain also recommended that chiefs approach situations with a certain level of conservative caution.
"Just because you've seen it work nine times before doesn't guarantee it will worth the 10th time," he said.
After everything is said and done, one thing is for certain: your first year as chief can be daunting.
The first year is the hardest
"I'm not sure the job ever truly gets easy," Binaski said. "The job is very challenging and you must always be a high performer."
Binaski said that other chiefs must never let their guard down and remember that they're being watched no matter if they're on or off duty.
"The fire chief can be a very challenging job, because essentially 'the buck stops' with you," he said.
In Chief Despain's experience, his first year as chief was challenging because he moved halfway across the United States.
"I was fully prepared for the challenges of the transition, but my family was still apprehensive," he said. "Transitioning at work and helping the family transition to their new home was extremely taxing."
Chief Despain said a majority of chiefs that are not successful in their transitions have significant struggles with family issues right from the start. And although family issues may not be the essential factor in the demise of a chief, it's usually a contributing factor.
In order to be successful during a transition, according to Chief Despain, it's important that your family is content with the move and enthusiastically supportive of your new job.
"When the family is in support, I contend that the first year can be challenging but also the most fun," he said. "During our move to Nebraska, we were taxed but we were also excited about the adventure and exploring our new home."
Once you get past the first year, you should look ahead and plan on how to improve year after year.
Pay it forward
Building a large network of peers in the fire service, Chief Binaski says, is key not only in your first year as chief but also for your long-term success.
"You need to get your name and abilities out beyond your own jurisdiction so others know who you are and will be interested in being part of your growing network," he said. "This can also be an important part for your potential exit strategy."
Embracing data, reading, learning and attending conferences, Chief Binaski says, will also arm you with a diverse knowledge-base and will allow you to take the emotion out of arguments.
"You must be a problem solver, have a vision, the ability to explain decisions, be a good communicator and have a large knowledge-base," he said.
One of the biggest issues fire chiefs face, according to Chief Binaski, is that they do not thoroughly communicate with personnel on what they're trying to accomplish.
"To be a great leader, you cannot manage the organization for where it is today," he said. "You need to take it where it did not know it could go. Always look to continuously improve the organization and what it does."
Great chiefs, he said, also demonstrate that leadership isn't just about the daily business decisions of the organization.
"When I think back to the great chiefs in my circle of experiences, they were not great because they built fire stations or fought for new fire engines. They were great because you knew they cared about you as much as the organization as a whole," he noted.
After all, you're the chief because you worked hard and had support from others in reaching your goal.
"Stay humble yet competent," Binaski said. "Do what is right, especially when no one is looking."
And when your time is up – be sure to pay it forward so that the next generation of the fire service can have good chiefs as well.