Ky. battalion chief focuses on fire prevention, mentoring
Steve Leonard of the Owensboro Fire Department says, "'The job of an old firefighter is to make sure a young firefighter becomes an old firefighter"
---
James Mayse
Messenger-Inquirer, Owensboro, Ky.
OWENSBORO, Ky. — After six years as a firefighter with the Daviess County Fire Department, Steve Leonard joined the Owensboro Fire Department in 1983.
Leonard could easily have retired with a full pension years ago.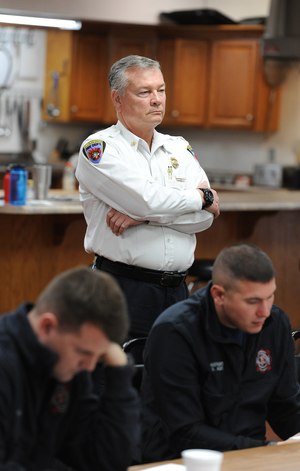 But retiring is still far from Leonard's mind.
As a battalion chief and the city's fire marshal, Leonard is responsible for fire prevention and fire awareness education, while also conducting fire investigations and responding to calls.
Leonard said part of his job is helping younger firefighters learn.
"There's an old saying, 'the job of an old firefighter is to make sure a young firefighter becomes an old firefighter,'" Leonard said.
After all, firefighting, by definition, is a dangerous career, Leonard said.
"Mentoring to other people makes you feel you are contributing to the next generation of firefighters," Leonard said.
Leonard, an Owensboro native, said he pursued becoming a firefighter.
"This was something I wanted to do," he said, adding that "it's an opportunity to help your community. It sounds old-fashioned, but I feel being a contributor is important."
As a young firefighter, Leonard said he learned from the old captains who led the city fire department.
"When I first took the job, the average age of a captain at OFD was 60 years of age," he said. "Those folks had a lot of knowledge. If you were interested enough to hone your skills, those were the folks you went to."
Leonard became interested in fire prevention after the department responded to a number of fatal fires.
"I told myself ... 'while being at at end of a hose line is very gratifying, it's often reactive and too late."
Fire prevention is a proactive approach to preventing fires, and preventing fire deaths, he added.
"Sharing with people what happens when your house catches on fire is very important," he said.
The fire department provides free smoke alarms to people who can't afford one themselves, and give presentations to schools and organizations on topics like having a plan so everyone knows how to escape a house fire, and having a meeting place outside the home.
Education is a big part of what city firefighters do, Leonard said.
"The entire fire department is on board with providing that service," he said.
Having a plan is important because there's not much time to escape a structure fire, Leonard said. Toxic fumes from burning house materials can kill a person quickly.
"(People) spend too much time trying to save valuables, but the most valuable thing is your life," Leonard said. "Time is your enemy. If you are not out within two to four minutes, you will probably die."
Working smoke detectors in every room increase a person's chances of escaping a fire to 90%.
"A huge problem is not having any smoke detectors to wake you up," Leonard said.
The fire service's mission has expanded beyond firefighting and public education, as departments have taken on responding to medical emergencies as well as fire calls.
"At one time, all we responded to were structure fires," Leonard said.
Today, 80% of OFD's calls for service are medical runs.
Because the service is always evolving, firefighters have to constantly learn and adapt.
"Firefighting is like boxing — You have to know your opponent," Leonard said. "The fire service is like any other business. Change is normal. Our folks are sharp enough to know you have to keep up, and I'm fortunate to be part of a department that knows that."
Firefighting is a family occupation.
Leonard's son, Lt. Brad Leonard, serves on the department, as does Leonard's son-in-law, Lt. Andrew Behl.
"One of my proudest moments is when my son decided to follow my steps and be a firefighter," Leonard said.
But the entire fire service is a close-knit unit, he said.
"The fire department is a team. It's an organization that works together," Leonard said. "That's what interested me in being a firefighter — you're able to serve your community. You have a sense of pride of belonging to a family that provides such an important service. This is important work."
___
(c)2022 the Messenger-Inquirer (Owensboro, Ky.)
McClatchy-Tribune News Service