Leaving a legacy: Now is the time to start making legacy moments
If we forget to build a positive legacy throughout our career, then we will be forgotten before we are even gone
---
How many times have we heard fellow members jokingly say things like, "I can't wait to get out of this place," "I can't wait to be able to sleep in" or "I can't wait to not have to put this uniform on again," only later to see those same members experience a hesitation or resistance as they approach the end of the road, nearing retirement?
How many of us are really preparing for our retirement?
We will all reach that time when we look at our retirement clock. We may even have it saved in our phone's calendar app. We are counting down the days, maybe even down to the minute. We have such excitement. We are so eager with all our dreams, all the things that we are going to do, all the trips to take and the different places to see and experience. Then suddenly, we look in the mirror and are unsure of the legacy we will leave behind.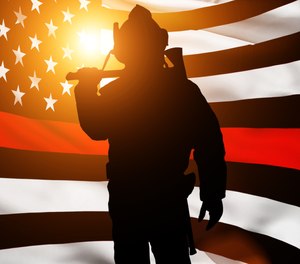 The "legacy moment" cannot be talked about, cannot be learned; it can only be observed and hopefully supported by the other fire service personnel. We use the term legacy ubiquitously, yet legacy means – quite literally – the long-lasting impact of particular events and actions that took place in a person's past. A legacy may come from our character, our reputation and the life we lead, setting an example for others and guiding their futures.
The legacy that we leave is generated from how our mind operates. It is extremely important that we try to be the best version of ourselves throughout our career; otherwise, we could find ourselves at that moment, questioning our legacy.
Do you want to be remembered for doing the right thing, even when no one was watching?
Do you want to be remembered for caring about other colleagues?
Do you want to be remembered for calling fellow members who are out on injury or suffering an extended illness?
Do you want to be remembered for caring about the organization as a whole?
As we approach retirement, all of those little things – the big things and the small things – create our legacy, how we will be remembered. We can't suddenly start doing little things in our last year or last six months to change our legacy. It's all our moments over time that build the moral foundation and compass for our careers as a whole. We must be genuine.
I have seen individuals leave organizations and return to them. When they return to visit a firehouse or attend a social gathering or even a funeral, they are embraced because all of those random good moments that others remember from their time around the kitchen table. The younger folks can identify these exemplary people because they were engaged while they were present, still a member of the organization and "on the books."
And yet on the flip side, I have seen members who retire without so much as an announcement for a last call on the radio, no comments from the troops or well wishes. I can't imagine how somber a somber moment that is, giving 25 years of your life, away from your family, missing so many special moments, only to find yourself walking out the door without well wishes to enjoy your retirement, good luck in the future, or how well deserved the moment must feel.
I promise you that at this very moment, you must start creating those legacy moments, the ones that matter. Legacy moments will forever leave an impact on who you are, not what title you held.
If we forget to leave a positive legacy, then we will be forgotten before we are even gone.
I was once told an anecdote by a very wise chief. I take it with me and reflect often about what it means. He said, "Stick your finger in a bowl of water. When you pull your finger out, wait for the ripples to stop. That is how long it takes for people to forget you." Twenty-five years gone in a matter of seconds – unless you leave a legacy.
So, I leave you with this: make each moment matter, always do your best even when no one is watching, and always keep the pulse on your moral compass.