'Stay in your lane': Debilitating advice for rookie members
Leaders should encourage members to merge, even pass on occasion, as they accelerate on the highway to success
---
No matter the organization type or size, individuals entering the fire service are given advice from veteran members. For instance, we've all heard the phrase, "You have two eyes, two ears and one mouth for a reason – you should watch and listen twice as much as you speak." This sounds like solid advice … until you synthesize what it really means: Observe, but don't talk. Do not offer any unique or opposing perspectives. Simply listen because your role in the organization is one of spectator, not participant – in other words, "stay in your lane."
"Staying in your lane" can be severely damaging to an individual's personal and organizational growth, restricting the multitude of benefits associated with diversity of thought. Such directives serve no purpose other than to stunt growth and squelch the potential for revolutionary ideas.
What exactly are leaders afraid of? That the life experience of a new person in the organization may cause disequilibrium, challenge cultural norms and promote positive change?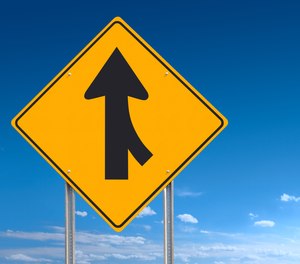 Organizational disequilibrium is the temporary state of instability caused by change. When applied in a safe environment, it is a great way to encourage creativity and bolster innovation. This platform, managed well, will allow people in the organization to have the courage and support needed to safely change lanes and bring themselves and the organization to the next level.
As such, leaders should embrace less tenured or newly promoted members within their organization, allowing them to spend less time drafting in the velocity of their established paths and encouraging them to merge into traffic and even pass on occasion, while offering support as they grow and lead the way to necessary change.  
Creating merge lanes
A commonly stated goal of fire service leaders is to leave the organization better than they found it. One way we can achieve this is through a basic tenet of leadership – fostering growth in others, or mentoring. When helping others grow and mature in their careers, we make a conscious commitment to invest time and energy to ensure the success of our colleagues.
To harvest the talent of those coming up behind us, it is not enough to just pave the road and provide instructions on how to navigate properly. We must create deliberate pathways to allow for merging and a safe zone for acceleration. Growth will not occur if we continue to force others to draft behind us, following the existing flow paths and never being encouraged to change lanes or safely pass. Leaders need to provide multiple lanes of travel to support individual and organizational growth. To maximize the potential of our workforce, we must yield to their desire and need to change lanes.
There are many opportunities to mentor and nurture the newer members of your organization, and as many ways of fostering success. A concept that I find useful is the project management approach.
Project management: Paving the highway to success
One method to develop the potential in your employees, while simultaneously promoting organizational growth, is employing a project management approach. The project management concept achieves two key goals: resolving complex organizational challenges and enhancing succession planning. It is a simple yet valuable tool for fire service leaders. Following are simple steps and guidelines for working through the project management approach.
Evaluate your agency. The process begins by scanning your organization through a critical lens to identify significant emerging trends or issues. It could be creating a more efficient staffing model, improving the efficacy of recruitment and retention efforts, enhancing firefighter safety or developing new tactical operations policies.
Set your priorities. Once all mission critical issues are identified, rate them in order of organizational importance and set your priorities.
Serve as support. The highest-level supervisor should retain the position of project manager but delegate the authority and responsibility to manage the project down to the next level. As the project manager, remain engaged in an ancillary role, providing requisite support and guidance as the team evolves and produces the final project.
Establish ground rules. It is of utmost importance to create a safe space for the team to openly discuss their ideas, setting ground rules for mutual respect but also allowing enough latitude for healthy opposition.
Identify the team.
Establish a well-balanced work group comprised of various personnel representing multiple facets within your department. In some cases, management teams need additional exposure to one another to fully appreciate the differences of each job classification. For example, a recruitment and retention project management team may benefit from the expertise of emergency operations staff who understand the ground truth impacting the resignation rate in the department.
Supplement the team with members of the support services bureau, remaining cognizant of the need to include various perspectives from a member of the recruitment team, staffing office, diversity and inclusion office, training division and perhaps a member of the budget and finance section. Note: For smaller departments, consider employing resources from other agencies in your local government, such as an HR expert, a representative from the labor or volunteer association and the central budget office. Beyond that, smaller organizations can always call upon larger regional fire departments to augment their project management teams. 
Once your workgroup is established, identify a chair and co-chair to keep the team moving forward.
Work through the project.
Establish clear expectations, set timelines and guide them on how to benchmark their progress.
It is critical to identify challenges faced by the project management team as they emerge and suggest course correction when an objective cannot be met.
Be intentional about introducing and engaging your team to internal and external agencies, thereby allowing them to establish new relationships while learning new practices, policies and procedures.
Empower your team to make critical decisions, assist them in developing a well-articulated project proposal and offer them the support of getting it across the finish line.
Employing project management teams to resolve technical challenges requires a significant commitment of time, but it is an investment that will yield great results for the members and the organization.
Draft in the tail speed
Great leaders provide an open lane of travel, encourage merging and support the acceleration of their members so that they can leave the organization better than they found it. The sooner you stop telling people to stay in their lane, the sooner you will find yourself drafting in the tail speed of the next generation of great leaders who will amaze you with their innovative solutions.
---