The Sweetwater experience: What the fire service can learn from a musical instrument retailer
A visit to Sweetwater underscores the importance of valuing employees and customer service
---
Over the holidays, my wife, Diana, and I traveled to Ft. Wayne, Indiana, to attend a hockey tournament. Our grandson plays goalie, and it is always great when we can see him and his teammates play.
While in Ft. Wayne, we had an opportunity to visit the showroom and warehouse of one of that area's leading businesses, Sweetwater. That may not be a household name to you, but it is for nearly everyone in the music industry, including our grandson who plays the guitar.
Imagine my surprise when my visit to Sweetwater became a lesson for the fire service to exemplify – the worth and empowerment they place in their employees.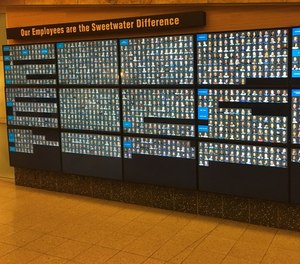 The Sweetwater experience
Sweetwater is billed as the largest retailer of musical instruments in the United States. It sits on the corner of two major intersections on the outskirts of Ft. Wayne, giving it plenty of room to expand as it grows. When you walk into the very open space at the front door, visitors are met by roving ambassadors who can guide you from the impressive lobby to the area you need. This might include one of several new instrument showrooms with private areas for playing the instrument of your choice depending on whether you are interested in strings, brass, piano or percussion. There is another area if you are in need of repairs to an existing instrument or to trade in equipment on something newer. There are also a series of studios if you wish to cut a demo recording.
The home office is another option up a staircase to the second floor if you are looking for employment. Or customers may want to go to a viewing area that overlooks the Warehouse and Distribution Center, where employees are pulling and shipping orders assisted by an automated system that marries up the components for each shipment for an employee to confirm and place on a conveyer for shipment.
While the current building that houses the showrooms, offices, warehouse and shipping is impressive, and additions to the warehouse are already being constructed, it is the associates who work at Sweetwater, their follow-up and their empowerment to make decisions that really caught my attention.
We were there to pick-up a new guitar that was a present for our grandson's birthday. It had been on back order for several weeks, and Sweetwater had kept us informed of its status and projected delivery during the process.
Once we checked in at the reception area, an associate was assigned to us to help pick up the guitar. He promptly showed us the guitar for our inspection and then the associate suggested he could box the instrument for travel while we spent some time visiting the rest of the facility.
We stopped at the cafeteria, an area that ran on the honor system – no cash register or cashier. Anyone, employee or visitor, merely tapped on a screen the type of food or drink they had and a total appeared. Visitors can use a credit card or cash, while employees just tap their company identification for payment. Passing through the cafeteria, there is an open seating area, large enough for most of the associates, where visitors and employees can intermingle and talk.
From the cafeteria, we visited the Distribution Center viewing area, and it was there that the associate who had been helping with the guitar caught up with us to report that the guitar had been packaged and was ready to be picked up whenever we wanted at the reception area.
Working our way back to the reception area, we found both an auditorium used for meetings and also for concerts put on by some famous entertainers for the Sweetwater employees and their families.
As we continued back to reception, the thing that solidified my thoughts on the Sweetwater culture was a conspicuous array of photos with a heading "Our Employees Are the Sweetwater Difference." Below that phrase was an electronic picture board of every employee, from the CEO and members of the Board of Directors to team members from sales and marketing, to the retail stores and the distribution center. Even more impressive, every picture displayed on the board was the same size, whether it was of the president or the newest sales associate.
Truly the building itself and the customer service exhibited by their associates clearly showed the value, contribution and buy-in given to the company by each employee.
Making the connection
You are likely now asking, how does this relate to the fire service?
First, in building such a culture of customer service, it reminded me that it can only be accomplished by truly valuing our employees, in this case our firefighter-paramedics, inspectors, fleet mechanics, administration, etc., and the contributions each gives to our community every day. Extraordinary customer service includes not only our normal firefighter-paramedic duties, but also how we can enhance the safety our community by attempting to reduce the risks that our citizens face. This risk reduction can take many forms: smoke detector installations; fall prevention and elder care advocacy; addiction intervention; child car seat installation; water safety; and emergency preparedness for individuals, families and our community among others.
The American fire service is uniquely equipped to help tackle any or all of these perils.  We are truly the nation's all-hazards response team. It is up to each department to decide how and to what degree we need to be involved, but whatever you decide, your commitment to customer service must be a core value to your department.
Further, as officers and chiefs, we need to recognize and reward the extraordinary customer service provided by our firefighters. This may take the form of an individual award, or a framed Unit Citation listing the entire crew, but should also include a ribbon bar or medal that can be worn on their Class A uniform. Some departments include a gift card to a great restaurant, allowing the firefighter to take their significant other out for dinner as part of the recognition. Others provide "Fire Bucks" that can be used by an individual to purchase additional equipment they may desire. Whatever way you choose, building a culture of extraordinary customer service is vital to all of us.
One final connection to note: The cafeteria's "honor system" is but one of several ways that Sweetwater acknowledges the trust it has in its employees. That trust is based on its employees doing the right thing at the right time, whether paying for what they eat or handling each customer the way they would want to be treated. So it is with the fire service. From our first day in the fire service, rookies, probies and recruits are taught the history of our service and the special role we play in the lives of those we've come to serve.
One only has to look at their own badge or shield to understand the historic relationship passed from generation to generation by tradition from the Knights of Malta. Unlike others in the crusades, the Knights of Malta were protectors of life by setting up hospitals and camps to treat the starving, the wounded and the dying. Their shield displayed a distinctive Maltese cross – the same design that most of the fire service uses to pattern their department's badge.
The idea of a special relationship of trust was also not lost on our country's founders. Firefighters belong to the only service empowered to enter any property, anywhere, any time for the purpose of fighting fire, saving lives and property. Any other government service must first apply and receive a search warrant to enter a property uninvited, but the fire service does it daily while entering homes and businesses to tend to the needs of their citizens and community. 
A great lesson for the fire service
I came away from Sweetwater with more questions for myself than answers. But one thing is for sure, when you receive quality customer service you know it, and you readily become a loyal customer that doesn't soon forget how you were treated – a great lesson for those of us in the fire service.
Stay safe!