Biden backs Schumer's push to renew federal firefighter grants
The bill would renew the Assistance to Firefighters and SAFER grant programs and reauthorize and increase funding for the U.S. Fire Administration
---
By Robert Harding
The Citizen
AUBURN, N.Y. — As Senate Majority Leader Chuck Schumer calls for the reauthorization of two federal grant programs to support fire departments and emergency responders, the legislative effort is backed by President Joe Biden.
In a statement released last week, the Biden administration announced it "strongly supports" passage of the Fire Grants and Safety Act sponsored by U.S. Sen. Gary Peters, a Michigan Democrat. The bill has 12 cosponsors — six Democrats, four Republicans and two independents.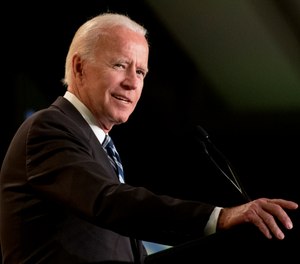 The legislation would renew the Assistance to Firefighters and Staffing for Adequate Fire and Emergency Response grant programs, both of which are administered by the Federal Emergency Management Agency. Annual funding for the programs totals $720 million.
Peters' bill would also reauthorize and increase funding for the U.S. Fire Administration, a federal agency that provides fire training and collects data on fires. The agency's funding level would rise from $75 million to $95 million if the legislative effort is approved.
"These programs provide critical resources to communities across the nation for firefighters, facilities, equipment and training," the Biden administration said in its statement.
The Auburn Fire Department and other departments in Cayuga County have benefited from the federal grants over the years. Auburn received grants totaling more than $1.5 million in 2021 to hire five firefighters and buy 38 new self-contained breathing apparatuses. Departments within the Springport Fire District and the Sempronius Fire Department are among the recent local recipients of federal firefighting grants.
According to Schumer's office, since the programs began in the early 2000s, upstate New York fire departments have been awarded nearly $700 million, including $23 million in 2022.
---

Read next
10 simple steps for a successful grant application
Grants are the lifeline of the volunteer fire service so it's essential we set ourselves up for success in the application process
___
(c)2023 The Citizen, Auburn, N.Y.
Visit The Citizen, Auburn, N.Y. at www.auburnpub.com
Distributed by Tribune Content Agency, LLC.
McClatchy-Tribune News Service