Bill would waive turnpike tolls for Pa. police, first responders
Senate Bill 45 would waive turnpike tolls for emergency vehicles responding to an urgent call or those escorting fallen first responders or service members
---
Paul Peirce
Tribune-Review, Greensburg, Pa.
GREENSBURG, Pa. — Robert Stafford, captain of the Greensburg Police Department, admits scratching his head in the last year after a bill crossed his desk from the Pennsylvania Turnpike Commission requesting a toll payment for a city patrol car that entered the Amos K. Hutchinson Bypass during a pursuit.
"They sent a a picture of the patrol car and its license plate. I initially thought what the heck is this?" Stafford said, laughing.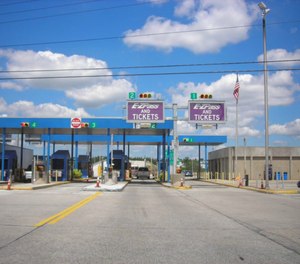 The matter was "resolved" without the city being assessed a fine after police, at the turnpike's request, forwarded a police incident case number, he said.
"It seemed kind of weird. … Why would a police car rush through the turnpike booth? It's usually for a chase or responding to an incident or something like that," Stafford said. "There's got to be a little trust there."
Senate Bill 45, authored by state Sen. Kim Ward, a Hempfield Republican, would waive turnpike tolls for emergency vehicles responding to an urgent call as well as those participating in escorts of fallen first responders or armed service members.
The bill passed out of the Senate Transportation Committee, of which Ward chairs. It still must pass in both the House and Senate and be signed into law by Gov. Tom Wolf.
Ward wrote the bill after hearing complaints from fire companies statewide located near the turnpike that expressed frustration with access issues and cost.
"Emergency responders are charged each and every time they access any of the turnpike's toll roads. Police departments are even assessed tolls for their vehicles involved in a pursuit that takes them onto the turnpike," Ward said. "My legislation would ensure that a toll would not be required for emergency vehicles in life-saving situations."
Officials with the turnpike commission could not be reached for comment Friday.
John Weikle, chief of the Lower Swatara Volunteer Fire Department, admitted to speaking with Ward's office about problems his Dauphin County department has experienced with turnpike charges. His department responds to incidents along the turnpike near Harrisburg.
"First off, I want to emphasize we have a good working relationship with the turnpike. And as long as we provide a turnpike incident number, we're not charged," Weikle said.
However, Weikle said the department has a 250,000-gallon tanker truck that is called to many incidents in which the turnpike is the quickest route, even if the call isn't related to the turnpike. That truck, with a weight of 85,000 pounds, is assessed a higher toll charge, amounting to "hundreds of dollars each trip."
"It's OK to go on the turnpike. But when it's over, they want us to take the Capital Beltway back to our station, which is about six miles further around and at least a 10 minutes longer drive," Weikle said.
He added that the department's vehicles are equipped with E-Z Pass. He also emphasized that the turnpike commission pays the department to respond to some emergencies per piece of equipment, and the turnpike waives fees when the incident number is forwarded.
"We don't pay them as long as we have that incident number," he said.
Don Thoma, Adamsburg fire chief and operations manager for Rescue 14 EMS, said two of that fire department's vehicles are equipped with E-Z Pass. He said Rescue 14 decided to pay tolls through an E-Z Pass because it was too burdensome to sort paperwork for when they use the turnpike for ambulance transports compared to responding to incidents on the toll road.
"The paperwork was really a hassle and a pain to follow through, and I don't think the expense amounts to $100 a month. But any bill that would help us like that would be appreciated," Thoma said.
Thoma noted that whenever a bill for tolls was challenged "they would always dismiss it."
Ward said the turnpike commission should cut first responders a break.
"This is common-sense legislation that prevents unnecessary costs from being incurred by first responders, especially volunteer fire companies that are already under a serious fiscal strain," she said.
———
©2019 Tribune-Review (Greensburg, Pa.)
McClatchy-Tribune News Service