CFSI roundup: Education, awards and Capitol Hill visits
Fire and Emergency Services Dinner focuses on family and recognizing difference-makers
---
It is always an honor to attend the Congressional Fire Service Institute (CFSI) National Fire and Emergency Services Dinner and Symposium in Washington, DC. Much like previous years, the 2019 events provided the opportunity for rapid-fire 50-minute classroom sessions designed to provide call-to-action motivation amongst the hundreds attending. Many others trekked down to Capitol Hill to interact with Congressional representatives and staffers on myriad issues important to the fire service.
From fire sprinkler legislation to cancer prevention to enhanced grant funding opportunities, CFSI provides a formidable platform to speak on core issues impacting our services. Bolstered by more than a million firefighters and all the major fire service representative organizations, the Fire Services Caucus is the largest caucus in Congress.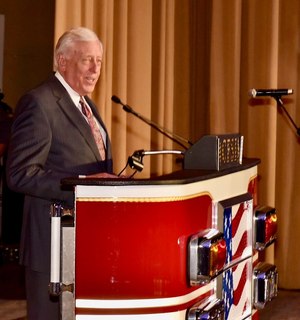 I had the distinct honor to once again speak with my friend and long-time Fire Services Caucus member, House Majority Leader Congressman Steny Hoyer, about the CFSI impact of the fire service in general. Long-time fire service supporter Senator Thomas Carper addressed the 1,500+ attending the 31st annual dinner, promising to continue pressing hard on the issues that impact emergency service workers' lives and families. Family was a central theme from each of the speakers – a proud fire service tradition.
It was gratifying to see my previous Prince George's County (Maryland) Fire/EMS Department Pipes and Drums Corps make their inaugural performance on this big stage. They have come a long way in a short period of time – kudos!
Every year, the highlight of the Fire and Emergency Services Dinner is the presentation of four high-honor awards given to worthy recipients.
The CFSI/Motorola Solutions Mason Lankford Fire Service Leadership Award
The CFSI/Motorola Solutions Mason Lankford Fire Service Leadership Award was presented to my good friend and longtime mentor and peer, Chief Russell Sanders. Sanders was the fire chief in Louisville, Kentucky, before going to work with the NFPA. Sanders is currently the Central Region (US) NFPA Regional Director and the executive director of the International Association of Fire Chiefs' Metropolitan Fire Chiefs Section. His 50+ years of deep and dedicated service to the fire service is difficult to capture in a short article. He has been a mentor for many, and travels extensively around the world to further the NFPA's mission and to improve safety for firefighters and communities in general, worldwide.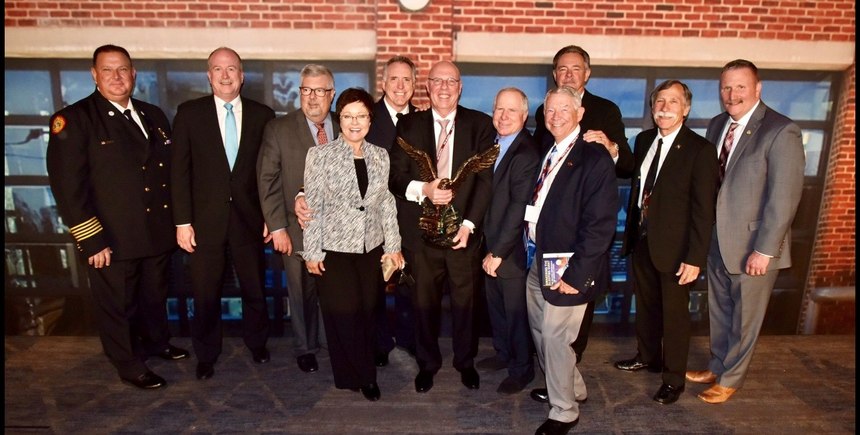 The CFSI/NFFF Senator Paul S. Sarbanes Fire Service Leadership Award
The CFSI/NFFF Senator Paul S. Sarbanes Fire Service Leadership Award was shared by the Florida Firefighters Safety & Health Collaborative and the Denver Fire Department. This award recognizes organizations for outstanding contributions to firefighter health and safety.
The Florida Safety and Health Collaborative is taking a statewide approach to firefighter health and safety, creating regional divisions within the state. Furthering cancer prevention and general physical and mental health care, the Collaborative is working to extend health and safety from coast to coast.
The Denver Fire Department was recognized for development of a comprehensive health and safety program, in many ways treating their employees like NFL players when it comes to health and rehabilitation services. The program incorporates fitness, nutrition and behavioral health that can be tailored to the needs of each individual firefighter.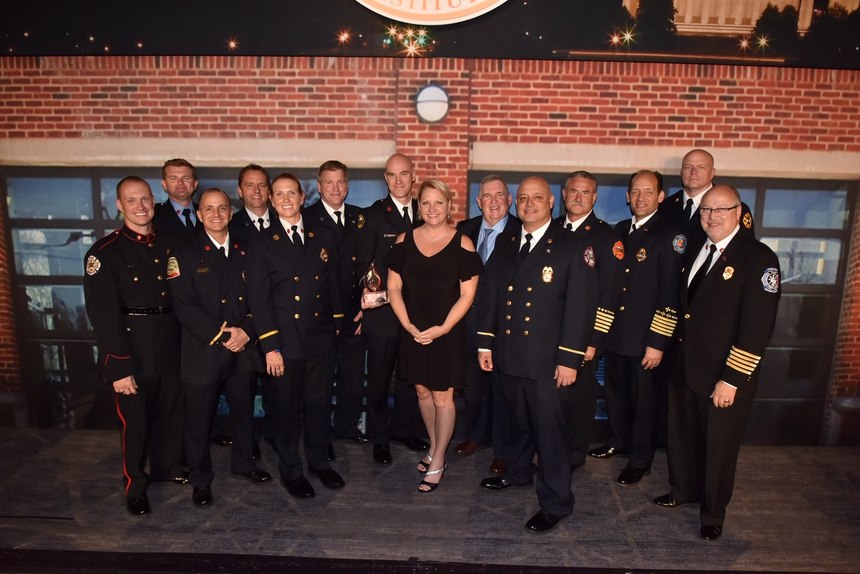 The CFSI/Masimo Excellence in Fire Service-Based EMS
The CFSI/Masimo Excellence in Fire Service-Based EMS is shared by a career and a volunteer/combination agency each year. The award recognizes fire departments for developing and enhancing the delivery of EMS to address the growing challenges in delivering emergency medical care.
The Phoenix Fire Department received the career-category award for its unique and innovative delivery of stroke-care services in the field. In 2016, the department began discussions to implement mobile stroke unit response capability into the pre-hospital EMS response system. The unique partnership between the PFD and Dignity Health Care Systems, with generous philanthropic support from the Phoenix Thunderbird Charities, went in service in 2017. The progressive patient care initiative is consistent with a vision to integrate emergency room capabilities with the fire department emergency response system.
The Barrows Emergency Stroke Treatment Unit (Best-U Mobile Stroke Unit or MSU1) has been dispatched on over 1,300 emergency calls, arriving on the scene to provide complete stroke assessment, care and appropriate transportation for over 400 patients. The program is envisioned to be implemented throughout the Phoenix Metropolitan Area Automatic-Aid Dispatch system.
The Winona (Ohio) Combination Fire Department serves a 33-square-mile rural community where no BLS/ALS transport units exist. Recognizing the need to provide at least basic emergency care to their citizens, the WFD took the initiative to enroll fire department members in EMT programs at their own expense. Since the implementation of the program, the department has responded to hundreds of EMS calls, with several saves reported in their first-due area and adjoining jurisdiction. The department also initiated a symposium with national-level speakers, providing additional training for their membership, that they would otherwise be unable to attain.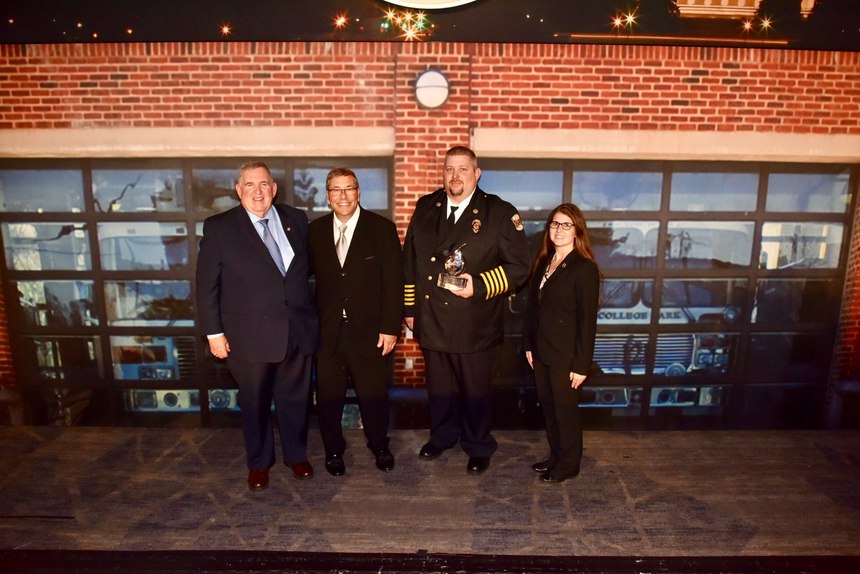 Dr. Anne W. Phillips Award for Leadership in Fire Safety Education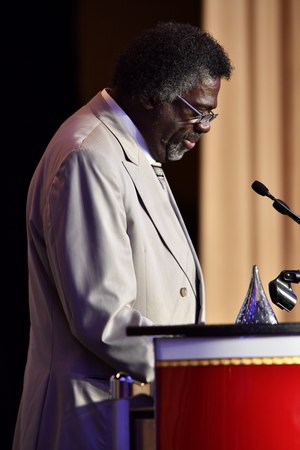 The CFSI/IFSTA Dr. Anne W. Phillips Award for Leadership in Fire Safety Education was awarded to Dr. Ernest Grant. Dr. Grant is the president of the American Nurses Association and previously served as president of the North Carolina Nurses Association. In 2002 Grant was recognized as "Nurse of the Year" by President George W. Bush for his work treating victims of the September 11, 2001, terrorist attack.
Dr. Grant has been a long-time fire service advocate and is an internationally recognized expert in burn care. During his 34-year career as a registered nurse, Dr. Grant has held leadership roles in a wide variety of nursing, burn prevention and fire safety organizations.