Fire service looks ahead to Obama presidency
---
Editor's note: In this, the second part of our series on the economic downturn and its impact on the fire service, we look at what Barack Obama's presidential victory means for the organization that aims to raise congressional awareness about the concerns and needs of firefighters. In addition, take your seat at FireRescue1's new blog, The Kitchen Table – and have your say.
  Economic downturn hits fire departments
  Can I have more in my allowance now?
By Jamie Thompson
FireRescue1 Editor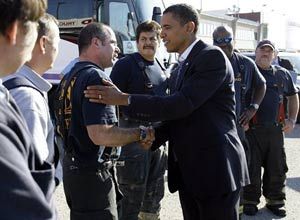 AP Photo/Alex Brandon
President-elect Barack Obama shakes hands with firefighters after stepping off the plane at the airport in Kansas City, Mo., last month.
Barack Obama swept to victory in Tuesday's historic presidential election on a pledge of change. Now the organization that aims to enhance congressional awareness about the concerns and needs of the fire service is waiting to see how this change impacts firefighters.
"We worked very closely with the Bush administration, and while we didn't get what we wanted all of the time at least we always had the lines of communication open," said Bill Webb, executive director of the Congressional Fire Services Institute.
"Our number one priority now will be forging those relationships with the new people."
Top of the agenda for the CFSI will be the Assistance to Firefighters Grant Program, which is up for reauthorization next year. Congress has approved $4 billion in funding for the program since its inception eight years ago.
Economic climate
The big question in light of the current economic climate is what happens next.
President-elect Obama certainly has been saying the right things, as far back as his campaign to become the Democratic nominee. Addressing the IAFF Presidential Forum in March last year, he spoke of how Washington sometimes "forgets" the "noble calling" of being a firefighter.
"They praise your work. They cheer you on when you race up the stairs. But when it's time to get you health care or buy radios or get you equipment that you need, those supporters sometimes disappear like a puff of smoke," he said.
In supporting Obama's campaign to become the U.S. president, the IAFF cited the fact he "consistently voted for increased funding for the FIRE Act and SAFER grants."
But given the current economic conditions, according to Webb, these are challenging times for the fire service in terms of securing continued support from every level of government.
With the CFSI's focus on the federal level, Webb said its main challenge will be pursuing equal — if not more — funding to counter the economic hardships at the local level.
"As we look forward to 2009 — and working with a new administration — we definitely have our work cut out," he said.
Improve readiness
In his capacity at the CFSI, Webb works closely with members of Congress and fire service leaders on developing federal legislation to improve the readiness of fire and emergency services.
He said the group's successes in delivering the right message to politicians has been achieved by approaching issues on a nonpartisan basis on behalf of a united fire service, working with both Republicans and Democrats.
"I think that's why the fire service has been successful in recent years," he said. "If you look at the cuts in funding for law enforcement programs, I think that might have to with the fact they are not working together as well as the fire service organizations are on the overriding issues."
— Pete Lamb,
The Kitchen Table
Webb said he is looking forward to working with President-elect Obama and Vice President-elect Biden, highlighting the latter's role as chair of the Congressional Fire Services Caucus. But he said the group will also be focusing its efforts on developing good communication with those further down the new administration.
"On a certain level, we have been successful in working with the Bush administration…and a lot of that has to do with establishing contact in key positions in the administration," Webb said.
"The future success for the fire service hangs on whether or not we can nurture those relationships, develop those friendships and partnerships with the people holding those positions."
As such, the fire service should not only focus its attention on the new cabinet officials, Webb said, but also those further down the pecking order such as the deputy secretaries and the chiefs of staff.
Work together
Webb said it's now vital for all organizations within the fire service continue to work together to press for continued funding for grant programs.
"Up on Capitol Hill, there's a proponent and opponent on every issue," he said. "We need to come up with a good argument to counter the argument of our opponents on these programs."
Firefighters need to be able to answer why the federal government should support "local" first responders, according to Webb.
The needs assessment carried out in 2002 by the USFA and the NFPA – that highlighted gaps in training and equipment for many firefighters — was a huge step forward for the fire service, which had previously relied on anecdotal data, Webb said.
Its findings are still valid today and support the need for continued funding, he added.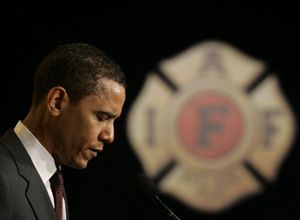 AP Photo/Gerald Herbert
President-elect Barack Obama addresses the IAFF Presidential Forum in Washington in March last year.
"But the best data we can possibly use is that which shows a reduction in the number of firefighter deaths and injuries, and we need to show more progress on that front," Webb said.
And when it comes to fire departments applying for grants, Webb said they need to ensure they are basing applications on needs and not necessarily wants.
"They need to be able to later prove how these grants made a difference," he said.
Webb explained how a fire department four years ago applied for both a SAFER and FIRE Act grant, but was only successful in securing the former.
"The local newspaper interviewed the chief," Webb said, "and he was quoted as saying, 'Well, we really wanted the FIRE Act grant so we could purchase an engine.'
"That's the type of response we don't want to be hearing from the mouths of firefighters when receiving these grants.
"When questioned by local media or members of Congress, they should be able to say, 'Yes, this program has had a positive impact on our community.'"