Firefighters mixed on call for Pa. funding reform
Pennsylvania Auditor General Eugene DePasquale's proposed legislation would reduce restrictions on how firefighters spend state aid money
---
By Jacob Tierney
Tribune-Review, Greensburg, Pa.
GREENSBURG, Pa. — Pennsylvania's auditor general wants to reduce restrictions on how firefighters can spend state aid money, but Western Pennsylvania fire departments have mixed feelings over whether the change is needed.
"The law has not kept pace with changing times, and in my view, puts too many restrictions on how relief associations can spend the state aid they receive," Auditor General Eugene DePasquale said at a news conference Thursday.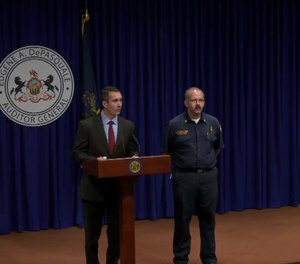 Most volunteer fire departments have affiliated relief associations, which receive money from the state and spend it on equipment, insurance and training for the department's members.
The state aid money comes from a tax on fire insurance premiums provided by out-of-state companies.
The Department of the Auditor General oversees the program. In 2018, it distributed $55 million to more than 2,500 municipalities.
Much of that cash goes unspent, according to DePasquale. There are 59 relief associations in Pennsylvania that each have more than $1 million in the bank.
DePasquale said relief associations are flush with cash because they can't spend it all due to restrictions on authorized expenditures.
"I'll bet if you ask any one of these associations how they could use this money to help recruit, equip and protect volunteer firefighters, they'd give you a list a mile long," DePasquale said in a statement. "But, then they would tell you they are not allowed because the law is so narrow that it's hurting firefighters."
That's not how Latrobe Volunteer Fire Chief John Brasile sees it.
He said the department's relief association deliberately keeps a large reserve and has never been hindered by onerous state regulations.
"Our departments are rather large, and the reason we have that money is we buy expensive equipment from time to time," he said.
The state has a list of hundreds of approved expenditures for relief associations.
Latrobe's relief association had about $1.3 million in reserve as of its most recent audit, in 2016. Most of that money has been invested so it will grow over time, Brasile said.
It regularly uses some money to buy protective gear for firefighters. The reserve protects the department from large one-off expenses like a new truck or death benefits for the families of members who have died.
"We put our money to good use, and it's there for a reason," he said. "We are very, very cautious on spending that money."
Greensburg Volunteer Fire Department Chief Tom Bell has a similar view.
"I have no problem with the rules the way they're written now," he said.
Greensburg's relief association had nearly $3.7 million in reserve as of its 2017 audit.
"It just seems like there's some out there that want to open it wide open and start spending it on anything and everything, which they shouldn't be," Bell said.
Like Brasile, Bell sees a large fund balance as a valuable safety that can be used to cover large expenses, not a sign of too much red tape.
"I can't say that there's been any time when we've looked at it and said, 'Boy, I wish we could spend money on something else,'" he said.
However, some of DePasquale's ideas do stand to benefit some departments in the region.
State law mandates relief associations spend their money only to benefit volunteer firefighters — not paid staff.
DePasquale said this is an outdated rule, particularly as volunteerism has been dropping statewide.
"Something that is eligible for a volunteer should also be eligible for a paid firefighter," he said.
That would make life easier for the Mt. Lebanon Fire Department, said Chief Nick Sohyda. His department has a mix of volunteers and paid firefighters. As a paid member himself, Sohyda isn't even allowed to participate in relief association meetings.
"I certainly wouldn't want to take money away from the volunteers to fund career guys, but I think it would be easier if there were less restrictions," he said.
Mt. Lebanon had almost $1.2 million in reserve in its 2016 audit.
Sohyda said he hopes any reform efforts would also come with a boost in funding, which recently has been dropping.
A few years ago, the Mt. Lebanon relief association got about $180,000 a year from the state. Now it's closer to $130,000, Sohyda said.
DePasquale has called on the state to change its funding formula for relief associations, which has not been updated since 1984, to take into account changes in population. Without specifics, it's not clear which departments would gain money and which would lose out if the formula was changed.
Any change in regulations or funding would need to come from the state legislature. DePasquale called on lawmakers to update the rules.
"Just as firefighters need our support, they need legislators to take action," he said.
———
©2019 Tribune-Review (Greensburg, Pa.)
McClatchy-Tribune News Service