House passes First Responder Fair RETIRE Act
Legislation allows injured federal first responders who continue service in government to retain retirement
---
The House of Representatives has moved legislation to the Senate that would allow federal first responders to remain in the accelerated retirement system if they return to work in government.
Passage of the First Responder Fair Return for Employees on Their Initial Retirement Earned Act (RETIRE) comes just two months after the House sent the Senate a bill to presume work-related causes for heart and lung disease and certain cancers among federal firefighters after a 20-year effort.
Led by Rep. Gerald Connolly (D-Va.), H.R. 521 would allow employees in positions covered by enhanced retirement programs to retain their original benefits if they are injured and disabled on the job and choose to continue working for the federal government.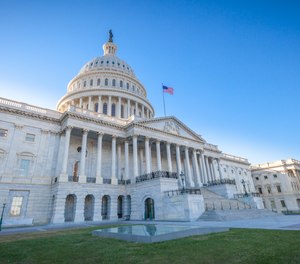 A technical correction
Currently, federal law enforcement officers, firefighters, nuclear material couriers and others are enrolled in and pay into a system whereby they may retire at the age of 57 or after 20 years of service. After all, "These are by definition high risk jobs," said Rep. Carolyn Maloney (D-N.Y.).
Connolly, a former county supervisor, explained that federal first responders are qualified under the law creating enhanced retirement system for an annuity after serving 20 years, but their annuity amount is calculated at a higher rate than other federal employees, recognizing the risks they take. "Unfortunately, not all federal first responders can complete those 20 years of service," she added.
On the House floor during a short debate, Connolly described the experience of a smokejumper who parachuted out of a plane in 1985 and landed in a tree, was dropped 80 feet and broke his back in five places: "He died twice before he could be revived and evacuated," Connolly noted. Ten years into his career, the firefighter chose to work in another position "but the reward for his bravery and his injury and service was his removal from the retirement system."
Crediting Connolly for a "narrowly tailored bill" to fix a "technical flaw" for federal first responders, Rep. Fred Keller (R-Pa.) supported giving disabled public safety officers the option to continue public service in a different capacity. With that, the bill passed 417-0.
RETIRE bill follows recent House action
In May, the bipartisan Federal Firefighters Fairness Act (FFFA) passed. The bill presumes work-related causes for heart and lung disease and certain cancers among federal firefighters with at least five years of service.
Rep. Virginia Foxx (R-N.C.), ranking member on the Education and Labor Committee, said at the time, however, that the bill "is not ready for prime time," concerned about leaving coverage open-ended and risk of fraud rather than with occupations.
Foxx continued: "We want to protect firefighters as much as the other side does. We value them very, very much, but this is not the legislation we need to do that. This bill throws out crucial program integrity measures, weakening the federal workers' compensation program. Critical oversight measures are important to protect taxpayers against non-meritorious claims and mismanagement."
The bill passed by 288-131 with support from approximately one-third of Republicans and sits before the Senate Committee on Homeland Security and Governmental Affairs.
Prospects for becoming law
A unanimous vote in either house of Congress sends a strong signal to the other body. But a low bill number (H.R. 521) also means at this late stage of the 117th Congress, the bill would most likely pass as is. But there are always exceptions that can move quickly. As of July 2022, the House is considering bills more than 8,000 – a typical number reaches into the 5,000s each two-year term.
Connolly's bill was introduced back in January 2021, when the session wasn't yet a month on. The Committee considered his bill two months before it reached the floor. And the same Senate committee hasn't acted on a twin bill since Sen. Jon Tester (D-Mont.) offered his when Connolly did. But the bills are identical, so if the Senate passes Tester's, the legislation is ready for the president's signature into law.
Nonetheless, "HSGAC," as it's known on Capitol Hill, has considered two dozen bills in a single business meeting. Similarly, the Senate is notorious for passing tens and tens of bills at the end of a session, which would mean observers can look for Connolly-Tester among the stack of bills that build up and wait until December when the bill either passes or must wait for the next Congress.
Suffice it to say that given the signals sent by House votes, it has a better chance than FFFA of moving this year.
Numerous colleagues are cosponsoring RETIRE, which is also supported by the Federal Law Enforcement Officers Association, the National Federation of Federal Employees, and the International Association of Fire Fighters. The question is whether your state or locality guarantee similar benefits.