Houston official proposes garbage fee to finance firefighter pay raise
Under the proposal, most Houston homeowners would be charged a flat, monthly fee between $25 and $40 to help the city absorb the cost of raises for firefighters
---
By Robert Downen
Houston Chronicle
HOUSTON — Houston City Councilman Dwight Boykins on Thursday proposed charging property owners a monthly garbage collection fee to finance raises for firefighters while avoiding job cuts for other city staff.
Under the proposal, most Houston homeowners would be charged a flat, monthly fee between $25 and $40 to help the city absorb the cost of raises for firefighters mandated by the pay parity charter amendment approved by voters last month.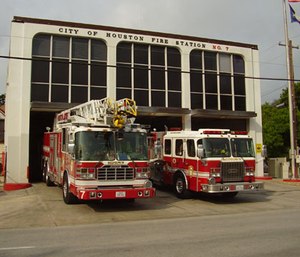 Unveiled at a Thursday press conference, Boykins' proposal comes amid a legal challenge by the city over the constitutionality of Proposition B, the charter amendment granting firefighters equal pay to police officers of corresponding rank and experience. The amendment was approved last month by 59 percent of voters.
"I believe the issue of pay parity was settled at the ballot box," Boykins wrote in a Thursday letter to Mayor Sylvester Turner and his colleagues on council. "As elected leaders, our primary mission is to settle on an appropriate and responsible way forward. To this end, I am convinced that introducing a garbage collection fee is the most plausible plan to provide firefighters a pay raise while ensuring that no city worker loses their job."
Turner's office issued a statement in which the mayor said he was opposed to the idea: "Council Member Boykins and the Firefighters Association's proposal to enact a $25 monthly garbage collection fee to pay for a firefighter's 29% pay raise, underscores what I have been saying for months. The City cannot afford Proposition B. This measure will cost the city more than $100 million each fiscal year. I will not support forcing Houston homeowners to pay a costly new tax on trash collection to pay for firefighters' salaries."
Even before Prop B was OK'd by voters, Turner had said approval could force the city to lay off hundreds of employees, including firefighters and police. The head of the Houston Professional Fire Fighters Association, the fire union that put the pay parity measure on the ballot, has called the threat of layoffs a scare tactic.
The union also has pressed the mayor since the charter amendment passed to return to contract negotiations to phase in the mandated raises for firefighters over time. Turner has rejected the idea, saying the city needed a judge to decide whether a collective bargaining agreement could supersede a voter-approved charter amendment.
In response to a lawsuit by the Houston Police Officers Union, which opposed the parity amendment, a state district judge earlier this month issued a temporary restraining order blocking implementation of the measure. A hearing is scheduled for Friday.
Boykins estimated the proposed fee could raise $107 million to $172 million annually. Disabled veterans would be exempted from the fee and senior citizens would pay a to-be-determined discounted rate, he said.
As envisioned by the District D councilman, proceeds from the fee would go into a "restricted special revenue fund" to support Houston's Department of Solid Waste Management, which Boykins said could be used to maintain department vehicles and prevent "frequent breakdowns that often lead to service delays."
He said trash collection could occur twice a week if city council adopted a $30 monthly fee; a $40 fee would allow heavy trash pickup twice a month.
Council member Michael Kubosh applauded the creativity of Boykins' proposal, but said he had never seen proposed garbage fees that were "up that high."
Houston is the only big Texas city without a garbage fee. Austin charges a monthly garbage fee of between $25 and $50, San Antonio charges roughly $20, Dallas charges $27 and Fort Worth charges between $12.50 and $23.
Kubosh said he could not yet support the proposal, but also expressed concern about what the potential wage hike for firefighters could mean for the city's budget.
"We're going to have to come up with a way to either trim our expenses or raise revenue," Kubosh said.
It's not the first time local officials have eyed — or killed — garbage fees: Turner shot down the idea in 2016, when it was suggested as a way to offset a new contract with trash haulers. Boykins floated the idea at an October council meeting, and previously has suggested a garbage fee as a way to raise money that would not count against a voter-imposed revenue cap.
Former Mayor Annise Parker also floated a garbage fee in 2014 to plug a budget deficit, an idea that was shot down by the city council.
McClatchy-Tribune News Service