N.Y. bill would allow emergency response vessels to respond faster
Fire and police boats would be exempt from maritime regulations, but their operators would have to exercise regard for safety
---
By Paul Liotta
Staten Island Advance
STATEN ISLAND, N.Y. — If it becomes law, a piece of state legislation would exempt fire department and law enforcement vessels from maritime regulations when responding to emergencies.
State Sen. Jessica Scarcella-Spanton (D-North Shore/ Brooklyn) announced that the legislation, which she sponsors, passed the Senate, and that it would bring the state's navigation law in line with its vehicle and traffic law that allows for a similar type of exemption for emergency response vehicles.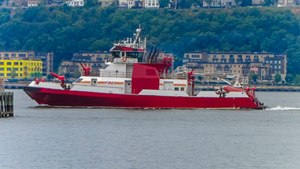 "Our first responders need to be able to get to an emergency as efficiently and swiftly as possible," she said. "The fact that our current law does not account for first responders traveling via waterways has been an oversight for far too long, and I'm proud that this legislation will protect our first responders commanding fire and law enforcement vessels."
Like the vehicle and traffic law, Scarcella-Spanton's bill only exempts vessels with audible sirens turned on, and requires the operators of those vessels to exercise regard for safety.
The bill passed the Senate unanimously, but does not currently have a version in the Assembly. This also isn't the first effort to get similar legislation passed. A version of the bill has been introduced in every Senate session dating back to 2009.
While it's unclear if Scarcella-Spanton's maritime legislation will become law, it is the fourth piece of legislation she's sponsored that's become law since entering office earlier this year.
___
(c)2023 Staten Island Advance, N.Y.
Visit Staten Island Advance, N.Y. at www.silive.com
Distributed by Tribune Content Agency, LLC.
McClatchy-Tribune News Service