Woman sentenced to 74 years in prison in Mo. firefighter deaths
Thu Hong Nguyen's sentence was punishment for causing what Assistant Jackson County Prosecutor Dan Nelson called "pain that is real, is ragged and is ongoing"
---
By Matt Campbell
The Kansas City Star
KANSAS CITY, Mo. — The woman who ignited gallons of flammable liquids in her nail salon looking to get an insurance check but ended up killing two Kansas City firefighters was sentenced Friday to 74 years in prison.
The stiff sentence for Thu Hong Nguyen was punishment for causing what Assistant Jackson County Prosecutor Dan Nelson called "pain that is real, is ragged and is ongoing" for the families and friends of firefighters John V. Mesh and Larry J. Leggio and for the community.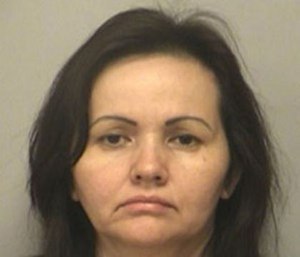 Jackson County Circuit Court Judge Joel P. Fahnestock sentenced Nguyen to 30 years each for two counts of felony murder, to run consecutively, and seven years each for two counts of second-degree assault for two firefighters who were permanently injured. Those sentences will run consecutive to each other and to the murder sentences.
She also sentenced Nguyen to 30 years and 15 years for two counts of arson, to run concurrently with the others.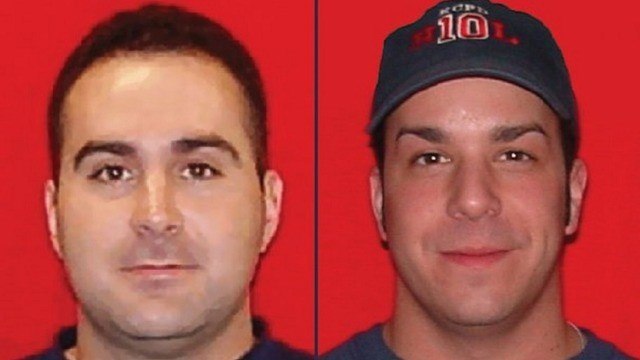 Prosecutors had recommended a sentence of 89 years.
Nguyen, 46, will have to serve 85 percent of the murder sentences before becoming eligible for parole.
The sentencing hearing was interrupted when Nguyen, in chains and an orange jail jumpsuit, appeared to have a breathing attack. There was no shortage of firefighter paramedics in the courtroom gallery, but a separate crew soon arrived with a stretcher. Nguyen recovered sufficiently for the hearing to resume after about 20 minutes.
The breathing attack came after emotional testimony from relatives of victims of the Oct. 12, 2015, fire that destroyed a building in the 2600 block of Independence Boulevard.
Missy Leggio said she was in the neighborhood of the fire, saw the lights and knew her husband would be among those fighting the blaze. She parked at Prospect Avenue and walked over, hoping to make eye contact with her husband as a signal that she loved him.
"But that didn't happen," Missy Leggio said.
Instead she saw the chaos of a wall collapse. Another firefighter ran over to her and someone put her in a car to take her to Truman Medical Center.
"I remember screaming in the car, 'Is my husband dead?'" Missy Leggio said.
Her husband's body was crushed from head to toe and every organ was damaged, she said, adding that she is thankful his death was instant and he didn't feel it.
"So much has been stolen from each one of our lives," Missy Leggio said, attributing it all to Nguyen's "selfish and greed-driven act."
Alyssa Mesh, 19, read a statement written by her 20-year-old sister, Adriana Mesh. In it she remembered a dad who "never got hurt or sick or anything. He was a rock." She called him a superhero and the world's best dad.
Adriana wrote of her mother's face when she came to get her at work that night to take her and her three sisters to the hospital. She said it appeared her dad's legs were missing under the hospital sheet. His eyes were closed and his skin was cold. She put her arms around him. The family didn't leave for hours.
"There was six of us and suddenly there was only five," Adriana wrote of her family. "Everything in your life was upside down in a matter of minutes."
Jim Mesh testified about his younger brother.
"We lost a father, a son, a brother, a husband, an uncle and a beloved friend of so many," Jim Mesh said. "Instead of making new memories with John, we talk about the memory of John."
Caitlin Anderson, daughter of injured firefighter Chris Anderson, spoke about how her dad has been forever changed.
Anderson and firefighter Dan Werner were also struck by bricks when the wall fell. Anderson had traumatic brain injury and several fractures and continues to have post-traumatic stress disorder. He is no longer with the fire service. Werner continues to battle depression.
Nguyen's son, David Nguyen, testified that the picture painted by the prosecution about his mother is "just not true."
The sentencing caps a nearly three-year ordeal for the families, the Kansas City Fire Department and the city. The department came under criticism for its lack of safety procedures.
Defense attorney Molly Hastings said her side agreed not to bring that up during the trial, but she said that was a contributing factor to the deaths and was worth considering during sentencing.
Hastings also said the case was stacked against Nguyen from the beginning with a powerhouse prosecution team and matchless resources.
"It's never been a fair fight, and they know that," Hastings said, adding that there was no evidence Nguyen ever intended to kill anyone. In fact, she said her client continues to maintain her innocence and will file an appeal on Monday.
But Fahnestock found her guilty of six out of seven counts after a week-long bench trial in July.
Nguyen started the blaze before leaving work shortly after 7 p.m. She had purchased eight gallons of acetone and rubbing alcohol earlier that day and placed them in a storeroom at the back of her LN Nails and Spa.
Nguyen was the last one out of the shop, one of four commercial spaces on the ground floor; there were 16 apartments on two upper floors. All but one was occupied.
Within minutes, the fire spread up and out through the space between the first and second floors. It quickly became a three-alarm conflagration battled by 110 firefighters. Within an hour, the eastern wall of the three-story brick building collapsed into an alley.
A commander at the scene had earlier ordered 18 firefighters out of the structure in the rapidly deteriorating situation. Most occupants of the apartments got out on their own but some had to be rescued.
Another order went out for firefighters to back away from the building, but some remained in the alley on the east side, next to Snyder's grocery.
In the aftermath, the fire department was forced to acknowledge it did not have a clear policy for making sure firefighters get the message when a "collapse zone" is declared. Officials say they have since rectified that by requiring a head count when a collapse zone is declared.
An investigation by the Bureau of Alcohol, Tobacco, Firearms and Explosives found that Nguyen, whom prosecutors have called a "serial arsonist," was associated with previous fires and other incidents that resulted in nearly $268,000 in insurance payouts over the years.
The pattern showed Nguyen would acquire a nail salon business, usually in someone else's name, and operate it until a fire or other event led her to file an insurance claim. She would live on the payout for a few months and then repeat the cycle. LN Nails and Spa was insured for $40,000.
Nguyen had most recently set fire to a previous nail salon she operated in Lee's Summit. No one was injured in that July 25, 2013, fire, and Nguyen received nearly $52,000 in an insurance payout. That was the second arson charge for which she was found guilty.
Investigators also found that a salon run by Nguyen in Texas burned the same month her insurance was to expire. Another salon in Texas burned after just four months. A salon in Grandview burned two days after Nguyen doubled her insurance. The average insurance payout was $46,000, an amount that prosecutors say Nguyen knew was not likely to trigger an arson investigation.
"It was easy money," prosecutors said.
But the fire Nguyen started on Independence Boulevard became the largest blaze in recent years in Kansas City. Firefighters who entered the building testified it was the hottest they had ever experienced and that their testicles were burned even under protective gear.
It was the last fire that two veteran Kansas City firefighters would battle.
Leggio, 43, was a second-generation firefighter and a member of the Kansas City Fire Department for 17 years. He was assigned to Truck 2. Mesh, 39, had been with the department for 13 years. He was working Pumper 10.
At the time of the wall collapse, Leggio was in the alley using a pike pole to try to pull a fan out of a ground floor window so Mesh, also in the alley, could get a clearer shot at the flames with his hose.
"All I saw was a wall of bricks," Werner said later. "There was no escaping it."
Copyright 2018 The Kansas City Star