Fire unions take issue with Baltimore safety bill
The measure contains a fire attack restriction, a limit on transit speeds and a thermal imaging camera requirement
---
By Leila Merrill
BALTIMORE — Two city firefighter unions have aired grievances with the Firefighter Safety Act, which members of the city council say would keep firefighters safe when responding to fires at vacant homes, WMAR reported. 
The Baltimore Fire Fighters Association and the Baltimore Fire Officers Association sent a six-page letter to the Baltimore City Council on Tuesday, WJZ reported.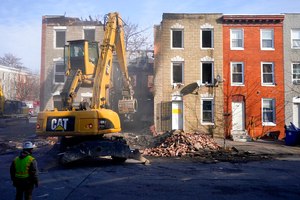 Councilwoman Danielle McCray created the bill after a deadly fire claimed the lives of three city firefighters in January.
This bill would prohibit firefighters from attacking a fire from within a building if it is vacant unless they confirm that someone is in the building, "that the fire is consuming less than 25 percent of the structure, and that conditions permit safe entry," WJZ reported.
In addition, the measure calls for firefighters to wear thermal imaging cameras while at scenes and for them to travel at 15 mph or less when responding.
The Baltimore City Fire Department was not contacted about the bill before it was submitted.
McCray had a good intention, but the legislation is flawed, said Richard Langford, president of the International Association of Firefighters in Baltimore.
"I think a lot of discussion needs to be had with the fire department administration, with both unions to sit with the council to really go through this and make it something that's just not a knee-jerk reaction," Langford said.
The unions' letter calls the speed restriction language troublesome and said that it was not an issue in the deaths of three first responders.
They also take issue with the matter of knowing exactly how much of a building is consumed by fire.
Read the full letter sent by the fire unions to the Baltimore city council chairman: