9/11 firefighter's remains identified after 18 years
Family members and loved ones gathered to honor Firefighter Michael Haub, whose remains were recently identified by a medical examiner
Duty Death: Michael Haub - [New York City, New York]
End of Service: 09/11/2001
---
By FireRescue1 Staf 
NEW YORK — Eighteen years after the attacks on 9/11, family members and loved ones gathered to honor a firefighter whose remains were identified and finally laid to rest on Tuesday. 
Uniformed Firefighters Association officials said the medical examiner conclusively identified the remains of Firefighter Michael Haub, CNN reported. Only 60% of human remains have been identified out of the 2,753 people killed at the World Trade Center.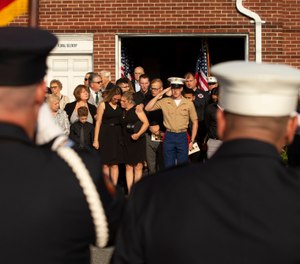 In a statement released by the association, officials said laying Haub to rest will offer closure and peace of mind to family members. Haub worked with the Ladder Company 4 for 13 years.  
Nearly 3,000 people were killed in terrorist attacks in New York City, Washington D.C., and outside Shanksville, Pennsylvania. The attack, orchestrated by al Qaeda leader Osama bin Laden, exposed thousands of first responders to toxins resulting in a range of health conditions including PTSD and cancer, as well as respiratory and digestive issues.