LODD: Mich. firefighter dies after responding to call
Norman Edward Klenow, 78, suffered from cardiac arrest after providing traffic control at the scene of a crash
Duty Death: Norman Edward Klenow - [East Tawas, Michigan]
End of Service: 08/10/2019
---
By FireRescue1 Staff 
EAST TAWAS, Mich. — The East Tawas Fire Department is mourning the loss of Firefighter Norman Edward Klenow, 78, who suffered cardiac arrest and died after providing traffic control at the scene of a vehicle crash.  
According to the U.S. Fire Administration, Klenow responded to a vehicle crash on Aug. 10.  While proving traffic control at the scene, Klenow complained of not feeling well and was assisted into the apparatus.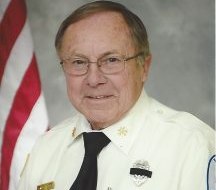 Klenow went home and was found in cardiac arrest at approximately 7:46 p.m. He was transported to the hospital where he passed away.  
Klenow served with the East Tawas Fire Department for more than 51 years. He is survived by his wife, two sons, two grandchildren and four great-grandchildren, according to Buresh Funeral Home.