Md. firefighter rescued after falling through floor of burning home
Baltimore County Assistant Chief Joshua Montague fell through the floor and Rebecca Budnick grabbed him and held onto him until help arrived
---
By FireRescue1 Staff
ABERDEEN, Md. — A mayday call went out Monday after an assistant chief fell through the floor of a burning home while searching for occupants.
The Baltimore Sun reported that six fire companies, including the Aberdeen Fire Department, responded to a house blaze and found the roof had already collapsed by the time they arrived, according to AFD Chief Steve Hinch.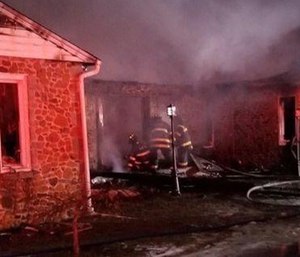 Crews searched the inside of the home three times before the state fire marshal confirmed no one was inside of the home.
One of the crews included Baltimore County Assistant Chief Joshua Montague, who fell through the floor and into the basement.
Firefighter Rebecca Budnick grabbed Montague and held onto him until a Rapid Intervention Team arrived and got them to safety two minutes after a mayday call was made.
 "They were fairly quick in getting to him," Hinch said.
Montague and Budnick were evaluated by EMS providers, but did not suffer serious injuries.
"It's a life-altering event for both of them," Hinch said. "We don't typically have those, we don't want to have those. It was life altering for me."
Hinch added that the incident could not have been avoided.
"It's nothing he did, it's the nature of the beast," he said. "It's something we practice, practice, practice. You can be doing everything right and it will still happen."