Rapid Response: Early incident command, multiple transport scenarios crucial to effective scene management
Latest shooting highlights need to stop debating and start implementing ballistic vest plans, protocols and distribution
---
Highlands County Fire Rescue assisted the City of Sebring Fire Department at a mass shooting in Sebring, Florida Wednesday afternoon.
What happened: At about 12:30 p.m., Highlands County 911 dispatchers received a call from a 21-year-old gunman indicating he had shot multiple people at the SunTrust Bank on Highway 27 in Sebring.
The Sebring Police, Highlands County Sheriff's Office, Sebring Fire, and Highlands County Fire Rescue and EMS responded. In my role as public safety director/fire chief for Highlands County, I assisted in running the fire/EMS branch of the incident command post.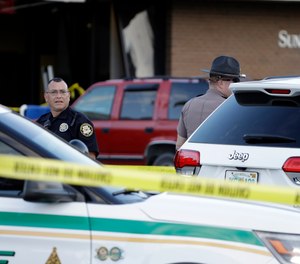 The initial response brought Sebring Ladder 15 (Quint) with two personnel, Sebring Chief Bobby Border, and two Highlands County paramedic transport units, along with command and support staff.
Fire and EMS units staged north of the incident scene while the active shooter threat was evaluated by the Sheriff's Office. Law enforcement officers established contact and began dialogue with the shooter.
Based on the information obtained, fire and EMS:
Landed an aero medivac helicopter north of the incident on the highway
Called in two additional transport units
Established a triage/treatment/transport group
Called for mutual aid ambulances from neighboring Polk and Hardee Counties to cover Highlands County
Paged out local volunteer firefighters for station standby
Why it's significant: Highway 27 is a busy six-lane highway, one of only a few highways running north/south through the center of the entire state. This particular location is sandwiched between the 9,000 acre Lake Jackson to the east and the smaller Little Lake Jackson to the west.
Transporting to the closest hospital would require units to cross in front of the active scene. Incident command developed two transport scenarios, one which would bypass the closest hospital, and a second scenario that would utilize the hospital 1.5 miles south, if the threat was neutralized.
Trained Highlands County tactical medics deployed with the Sheriff's Office SWAT team. As the SWAT team breached the building and made entry, our EMS units, staged at the command post, were called in to evaluate patients. Highlands County medics and EMTs confirmed all five patients were deceased.
Medic 17-2 remained on the scene for an extended period of time to assist the Sheriff's Office, while law enforcement began the lengthy and arduous investigative process.
By 4:30 p.m., a press conference attended by the alphabet soup of media outlets was held, with Florida Governor Desantis in attendance.
Critical incident stress management teams have been contacted, and CISM services offered to our first responders.
Top takeaways on the Sun Trust Bank incident
Here are my top takeaways from the incident.
Active shooter training and implementing NFPA 3000 protocols is a must. Our emergency management staff was in an out-of-county active shooter class while this event unfolded.
Ballistic vest investments have to be made for fire and EMS folks. We collectively need to stop debating it and implement plans, protocols and distribution now.
Early establishment of the incident command system and use of a command/control chart are crucial to effective management and incident success.
Additional resources on active shooter response
Learn more with these articles from FireRescue1: