Texas Gov.: 10 killed, 10 hurt after high school shooting
Authorities say possible explosive devices have been found at and adjacent to the high school
---
Associated Press
SANTA FE, Texas — A gunman carrying a shotgun and a revolver opened fire at a Houston-area high school Friday, killing 10 people, most of them students, authorities said. It was the nation's deadliest such attack since the massacre in Florida that gave rise to a campaign by teens for gun control.
The suspected shooter, who was in custody, also had explosive devices, including a molotov cocktail, that were found in the school and nearby, said Gov. Greg Abbott, who called the assault "one of the most heinous attacks that we've ever seen in the history of Texas schools."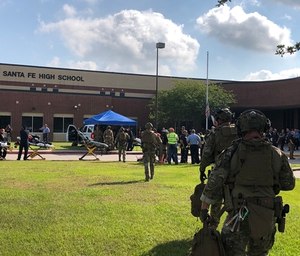 The assailant intended to kill himself but gave up and told authorities that he did not have the courage to take his own life, Abbott said.
Another 10 people were wounded at the school in Santa Fe, a city of about 13,000 people roughly 30 miles (48 kilometers) southeast of Houston. One hospital reported treating eight wounded patients. Six were treated and released. One was listed in critical condition, and another in fair condition.
Michael Farina, 17, said he was on the other side of campus when the shooting began and thought it was a fire drill. He was holding a door open for special education students in wheelchairs when a principal came bounding down the hall and telling everyone to run. Another teacher yelled out, "It is real!"
Students were led to take cover behind a car shop across the street from the school. Some still did not feel safe and began jumping the fence behind the shop to run even farther away, Farina said.
"I debated doing that myself," he said.
A law enforcement official identified a person in custody in the shooting as Dimitrios Pagourtzis, also 17.
The official was not authorized to discuss the shooting by name and spoke on condition of anonymity to The Associated Press.
A woman who answered the phone at a number associated with the Pagourtzis family declined to speak with the AP.
"Give us our time right now, thank you," she said.
Pagourtzis plays on the Santa Fe High School junior varsity football team, and is a member of a dance squad with a local Greek Orthodox church.
The suspect used a shotgun and .38-revolver obtained from his father, who owned them legally, Abbott said. It was not clear whether the father knew his son had taken them.
One or two other people of interest were being interviewed about the attack, Abbott said.
The shooting was all but certain to re-ignite the national debate over gun regulations. While cable news channels carried hours of live coverage, survivors of the Feb. 14 attack in Parkland, Florida, took to social media to express grief and outrage.
"My heart is so heavy for the students of Santa Fe High School. It's an all too familiar feeling no one should have to experience. I am so sorry this epidemic touched your town — Parkland will stand with you now and forever," Marjory Stoneman Douglas student Jaclyn Corin said in a tweet.
She also directed her frustration at Trump, writing "Our children are being MURDERED and you're treating this like a game. This is the 22nd school shooting just this year. DO SOMETHING."
In Texas, senior Logan Roberds said he was near the school's art room when he heard a fire alarm and left the building with other students. Once outside, Roberds said, he heard two loud bangs. He initially thought somebody was loudly hitting a trash can. Then came three more bangs.
"That's when the teachers told us to run," he said.
At that point, Roberds said, he told himself, "Oh my God, this is not fake. This is actually happening."
Friday's assault was the deadliest in Texas since a man with a semi-automatic rifle attacked a rural church late last year, killing more than two dozen people. The Parkland attack killed 17.
Aerial footage showed students standing in a grassy field and three medical helicopters landing at the school.
One student told Houston television station KTRK in a telephone interview that a gunman came into her first-period art class and started shooting. The student said she saw one girl with blood on her leg as the class evacuated the room.
"We thought it was a fire drill at first but really, the teacher said, 'Start running,'" the student told the television station.
The student said she did not get a good look at the shooter because she was running away. She said students escaped through a door at the back of the classroom.
In the aftermath of the assault on Marjory Stoneman Douglas High School, survivors pulled all-nighters, petitioned city councils and state lawmakers, and organized protests in a grass-roots movement.
Within weeks, state lawmakers adopted changes, including new weapons restrictions. The move cemented the gun-friendly state's break with the National Rifle Association. The NRA fought back with a lawsuit.
In late March, the teens spearheaded one of the largest student protest marches since Vietnam in Washington and inspired hundreds of other marches from California to Japan.
The calls for tighter gun controls that have swelled since the February mass shooting at a Florida high school have barely registered in gun-loving Texas — at least to this point.
Texas has some of the most permissive gun laws in the U.S. and just hosted the NRA's annual conference earlier this month. In the run-up to March primaries, gun control was not a main issue with candidates of either party. Republicans did not soften their views on guns, and Democrats campaigned on a range of issues instead of zeroing in on gun violence.
To the students, families, teachers of Santa Fe High School, all of those affected and the entire community: We are with you, you are in our prayers, and you're in the prayers of the American people. pic.twitter.com/8bhPWyK7vR

— Vice President Mike Pence (@VP) May 18, 2018
#UPDATE Possible explosive devices have been located at the school and off campus. Law enforcement is in the process of rendering them safe. School has been evacuated. Call 911 if you see any suspicious item. #HouNews #SantaFeISD

— Santa Fe ISD (@SantaFeISD) May 18, 2018