Judge rules Ghost Ship fire lawsuit against PG&E can proceed
The families of most of the 36 killed in the 2016 blaze will continue to seek compensation after a proposed settlement was rejected last week
---
Angela Ruggiero
Mercury News
OAKLAND, Calif. — The families of most of the 36 people killed in Oakland's notorious Ghost Ship warehouse fire can proceed with their lawsuit against PG&E in an effort to be compensated for the loss of their loved ones, a bankruptcy judge ruled Tuesday.
Pacific Gas & Electric tried to include those families in a proposed settlement that also included the victims of California wildfires in 2017 and 2018, but that agreement began unraveling when Gov. Gavin Newsom rejected it last week.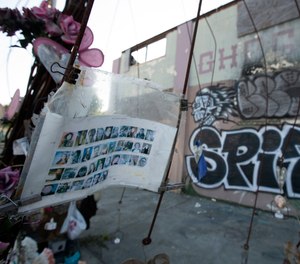 Although PG&E is currently rewriting the settlement, the new version won't include the Ghost Ship families.
U.S. Bankruptcy Judge Dennis Montali essentially decided to let the Ghost Ship families "have their day in court," said Paul Matiasic, an attorney who represents the plaintiffs.
Montali ruled their lawsuit against PG&E can proceed with the caveat that any damages would be capped at the amount of coverage remaining from the utility's 2016 insurance policies, according to the Associated Press.
After PG&E filed for bankruptcy earlier this year, the families of 33 or the 36 victims killed in the Dec. 2, 2016, warehouse blaze filed a motion to pursue their civil case; the trial is expected to begin in May. In addition to PG&E, the city of Oakland and the warehouse's owners, the Ng family, are named as defendants.
"All these plaintiffs have been waiting for justice for quite some time. It's time for city of Oakland, PG&E and the Ngs to face their music," Matiasic said earlier this month.
He said Tuesday the families are looking forward to their court reckoning with all the responsible parties.
Although a cause for the tragic blaze was never officially determined, one fire official said during a preliminary hearing in the December 2017 criminal trial that the cause was likely electrical failure.
The city has submitted about 32,000 documents, videos and photos to attorneys representing the families, and depositions of Oakland firefighters, police officers and other officials are underway.
PG&E announced earlier this month it would pay $13.6 billion to settle individual claims from a series of deadly blazes, including the Ghost Ship fire and other fires throughout California. But, Newsom rejected PG&E's plan to exit bankruptcy after concluding it didn't comply with state law. He reasoned it didn't assure enough changes to enable PG&E to emerge from bankruptcy with the financial means to safely provide reliable service to its 16 million customers.
Matiasic said that plan wasn't a clear resolution either because funds would have been put into a trust and Ghost Ship families would still have to prove PG&E's liability.
Meanwhile, the criminal case against defendant Derick Almena in the warehouse fire is also pending, as he awaits a retrial expected to begin in March. A jury could not reach a conclusion on 36 counts of involuntary manslaughter against him, deadlocking 10-2 in favor of guilt in September. His former co-defendant, Max Harris, was acquitted of all his 36 charges.
Prosecutors alleged Almena was the mastermind behind the conversion of the former dairy storage warehouse to a residence, inviting people to live inside in a community setting. Harris, who moved in sometime in late 2014, served as the "creative director" or second-in-command to Almena, they alleged, helping organize events and collecting rent.
Almena was the Ghost Ship's master lease-holder, having co-signed in November 2013 to rent the building owned by the Ng family. The Ngs and Almena agreed the space would be used by an artists collective to create artwork and hold community workshops and classes.
The Ngs no longer face the prospect of any criminal charges after the statute of limitations ran out on the third anniversary of the deadly fire this month.
———
©2019 The Mercury News (San Jose, Calif.)
McClatchy-Tribune News Service