Pa. city firefighters say they were given no reason for their suspensions
The firefighters asked the city council about the details of their suspensions but the council said it had no role in the decision
---
Jeff Himler
Tribune-Review, Greensburg, Pa.
LATROBE, Pa. — Firefighters who are under suspension at Latrobe Fire Department's Goodwill Hose Company No. 1 say they haven't been told the reason for the move, and they got no answer to that question at Monday's city council meeting.
"We were suspended without cause, without reason," Nico Giovannagelo, captain of the Goodwill Hose Company, said of himself and the six other firefighters. "We do not know why we were suspended, for how long, or whether it is an in-house suspension.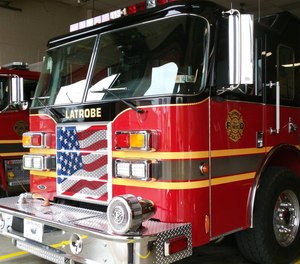 "No one has an answer for me."
Responding to questions from the audience Monday, Mayor Rosie Wolford said she wasn't given advance notice last week of the decision by fire department officials to suspend operations at Hose Company 1, but was made aware when the officials removed the company suspension and then suspended seven of its members.
Devin Giovannagelo, one of those suspended, said he was told the suspensions "came from above" and were decided upon by a group including the mayor, the solicitor and the fire chief.
But Wolford said council had no role in those decisions.
"My understanding is it was made by the executive board of the fire department," she said. "That decision to suspend firemen is not ours. We don't set those bylaws."
Solicitor John Greiner said the city isn't able to comment on the matter. Fire Chief John Brasile also didn't address it during Monday's meeting and declined to comment when approached after the meeting.
Wolford said last week the matter is under review. She acknowledged that council discussed personnel during a closed-door executive session held an hour before Monday's public meeting. Councilman Jim Kelley said council isn't at liberty to reveal specifics of that discussion.
It was initially announced that "Company No. 1 is on a lockdown for reorganization," according to the company president, Fabian Giovannagelo, who is Nico's father.
Wolford has said public safety never was at risk during the suspensions, adding that the city "at all times had adequate emergency response personnel, equipment and apparatus to respond to any emergency."
But, Nico Giovannagelo indicated, with his suspension and those of six others, "the city has lost one-third of its top responding mask men." The term refers to the use of breathing masks and oxygen tanks by firefighters who enter a burning structure.
———
©2019 Tribune-Review (Greensburg, Pa.)
McClatchy-Tribune News Service